Les Garibaldiens, ce sont les premiers sur le champ de bataille aujourd'hui.
The first ones on the battlefield today, the Garibaldians...
Bonjour à tous,
C'est avec les premiers vers d'une chanson revancharde de 1870
que je commence ce compte rendu de partie...
L'armée française organise une contre-attaque en Alsace,
et les Prussiens sont surpris...
It is with the first verses of a revenge song in 1870,
"You will not have Alsace and Lorraine",
that I start this report ...
The French army organizes a counter- attack in Alsace
and the Prussians are surprised ...
L'équipe prussienne : Cédric, Phil, Dimitri et Serge.
The Prussian team...
Le terrain, le chemin de fer et la route que doivent
franchir les Français pour gagner.


The land, the railway and the road that the




French must cross to win.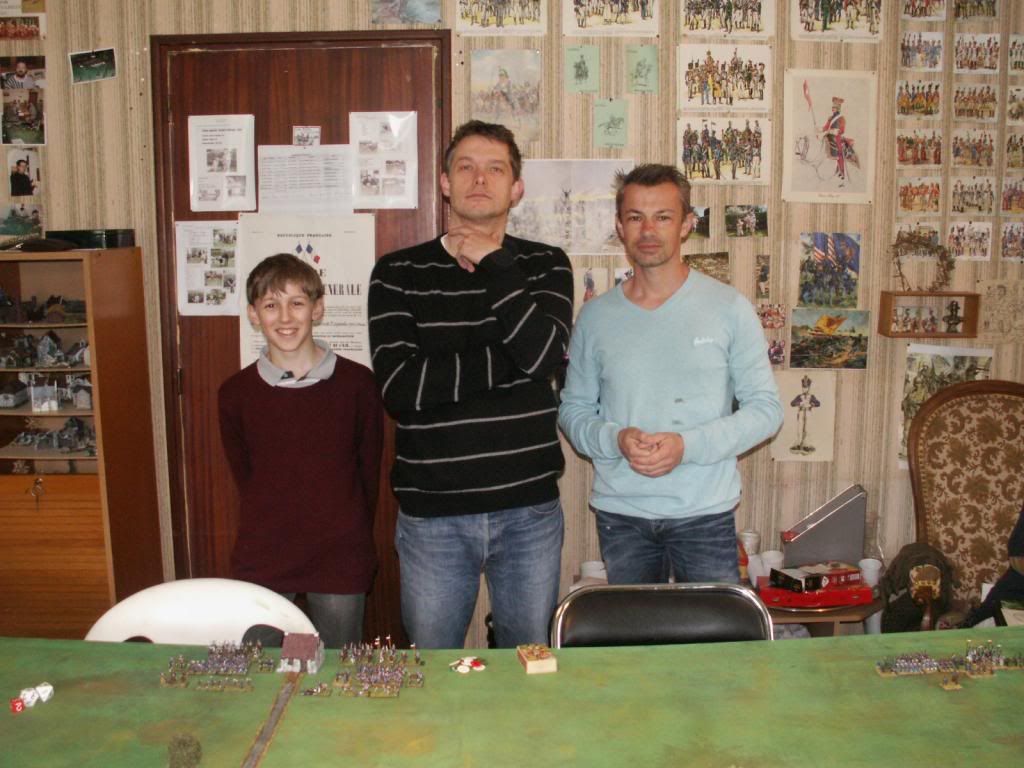 Les Français Alexis, Christophe et Ronnie.


The French team...
Premier tour : de retour d'une mission de reconnaissance, mes cavaliers rentrent dans nos lignes...
nous sommes prêts à recevoir l'offensive française.


First turn : returning from a reconnaissance mission, my horsemen fall into our lines ...




we are ready to receive the French offensive.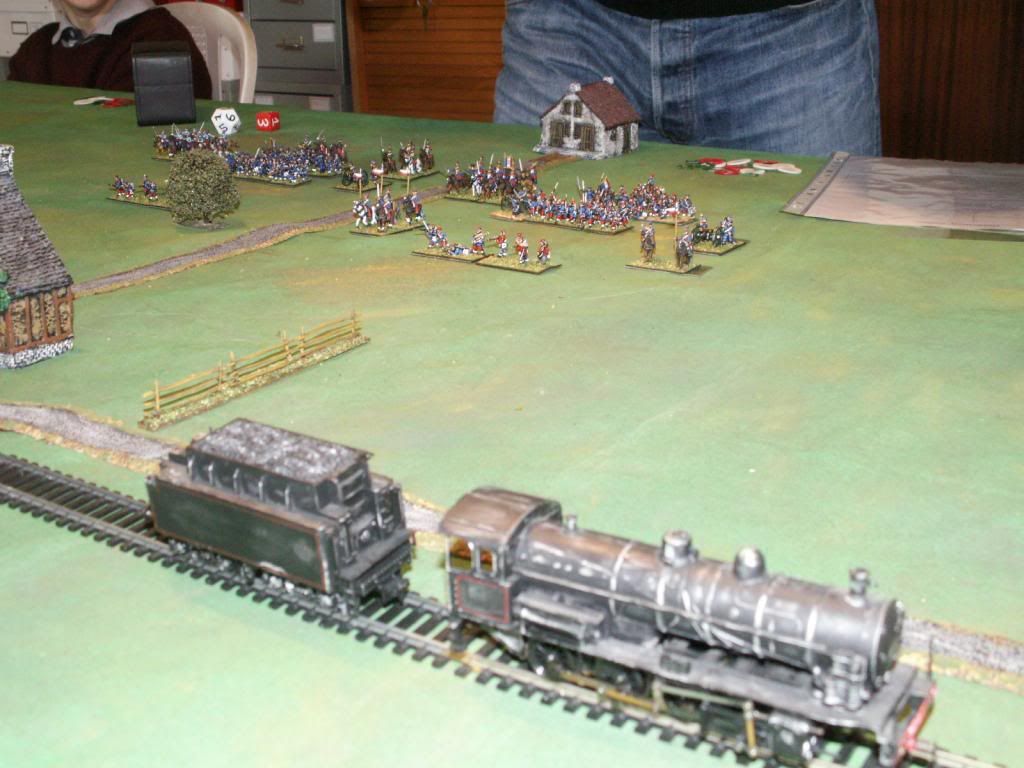 Au centre, c'est Christophe qui dirige l'attaque...


In the center Christopher is leading the attack ..

.
Ma première ligne de défense : seule ma brigade de ligne a des ordres, les grenadiers sont loin derrière,
il va falloir se battre à un contre deux en attendant les renforts...


My first line of defense: only my line brigade has got orders, the grenadiers are far behind,




we will have to fight one against two while waiting reinforcements ...
FEUER !!!
L'orage prussien commence...
Prussian storm begins
Les troupes de Ronnie, gardes mobiles en tête. Sa progression au 3ème tour est méthodique et inquiétante...


Ronnie's troops, mobile guards at there head. Its progression at the 3rd turn is methodical, I'm worried..
L'offensive française : Ronnie pousse sur notre droite,
soutenu au centre par Christophe.


The French offensive Ronnie pushes on our right,




supported in the center by Christophe.
Tour 5 : enfin un de mes canons de réserve entre en jeu, mais il est encore trop loin pour tirer avec précision.


Turn 5: Finally, one of my reserve guns comes into play, but it is still too far away to shoot accurately.
Sur notre aile gauche, tout est tranquille : Serge et Alexis ont des ordres très défensifs.


On our left, all is quiet: Serge and Alexis have very defensive orders.
J'avais espéré que Ronnie soit prudent, mais il lance ses cavaliers sur mes lignes au tour 6.
Les charges sont terribles, et ma ligne de défense cède...


I had hoped that Ronnie would be prudent, but he launches his cavalry on my lines on turn 6.




The charges are terrible, and my line of defense is broken...
L'attaque des Français de Ronnie est puissante, les charges de cavalerie
combinées aux tirs des tirailleurs algériens sont impressionnants...
The French attack of Ronnie's powerful : cavalry charges
combined with shots of Algerian riflemen are impressive ...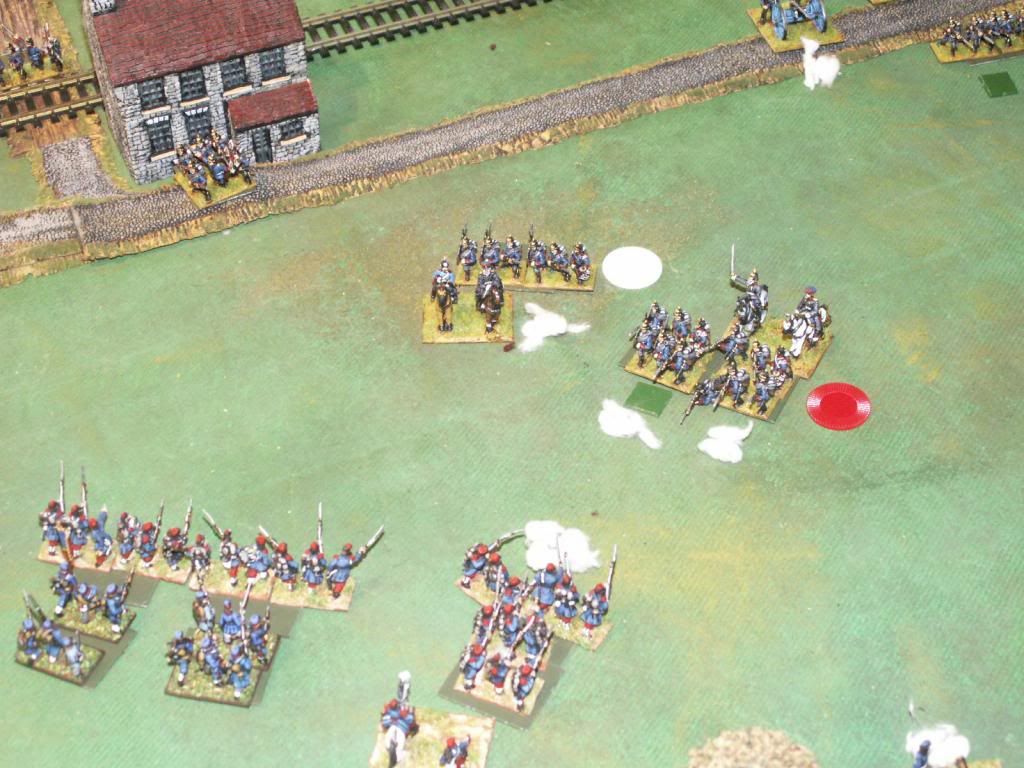 Au centre, les Français de Christophe progressent sous le feu des canons prussiens, bien timides pour l'instant...


In the center, the French troops of Christophe progresses under Prussian cannon fire, timid canons for now ...
Cédric tente d'enrayer l'avancée française en chargeant...mais la cavalerie prussienne est à l'image
de son artillerie...peu efficace en ce jour!


Cedric tries to stop the French advanced with some cavalry charges...

but the Prussian cavalry
is like its artillery today ... inefficient !
Combats meurtriers au centre et sur notre droite...j'ai tenu deux tours,
mais mes hommes ont subi de lourdes pertes, et les grenadiers n'ont
toujours pas d'ordre!


Deadly fighting in the center and on our right ... I held two rounds




but my men have suffered heavy losses, and the grenadiers have




still no order!
L'état-major prussien. Les Français ont subi quelques pertes dans leur approche mais même de loin,
la situation sur l'aile droite semble inquiétante...


The Prussian General Staff.

The French suffered some losses in their approach but even from afar,


the situation on the right wing seems alarming ...
...les gardes mobiles des Vosges français progressent vite, beaucoup trop vite!


...the French "Gardes mobiles" from the Vosges are progressing quickly, too quickly!
La situation au centre à 15h : les charges de cavalerie de Cédric sont magnifiques de courage...
mais en 1870 le feu des Chassepots, les fusils français, est impitoyable :
les Prussiens piétinent, et le doute se lit sur le visage de nos alliés Wûrtemburgeois...


The situation in the center, 3pm : Cedric's cavalry charges are magnificent courage ...




but in 1870 the fire of the chassepots (the French rifles) is ruthless:




the Prussians trample , and the doubt on the faces of our allies Wûrtemburgeois is obvious ...
Avec le sourire, Fanny, la copine de Ronnie, porte l'estocade en lançant les derniers dés...nous
ne sommes qu'au 8ème tour, et ma première ligne est en déroute, mes grenadiers bousculés!
La fougue française est terrible!


With a smile, Fanny, Ronnie's girlfriend, has the final blow by launching the latest dices ... we




are only at the eighth turn, and my first line is routed, my grenadiers rushed!




The French impetuosity is terrible!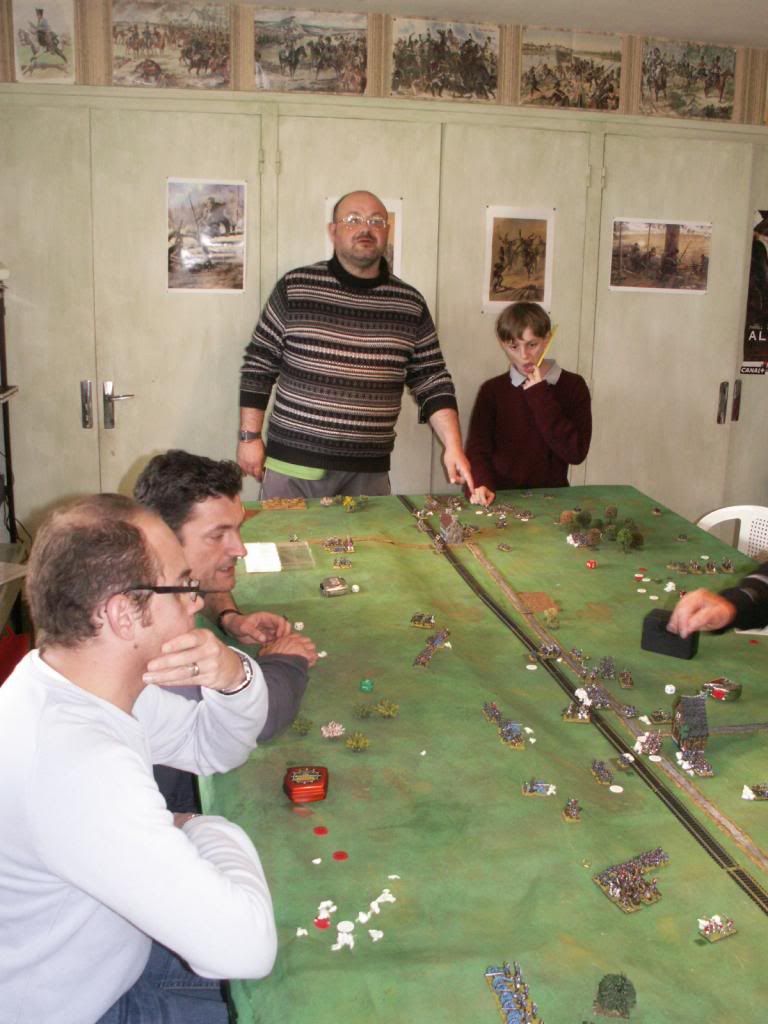 Tour 9 : il nous reste Serge pour sauver la situation...on tente une offensive sur l'aile
gauche, sous le regard dubitatif de Dimitri et de Cédric!


Round 9 : it remains Serge to save the situation...so, offensive on the left wing,


under the skeptical gaze of Dimitri and Cedric

!
...mais là c'est la cavalerie française qui réussit ses charges! Les canons prussiens sont emportés par les cavaliers
ayant survécu aux tirs!


... but here, this is the French cavalry winning its charges! The Prussian guns are swept away




by horsemen who survived the fire!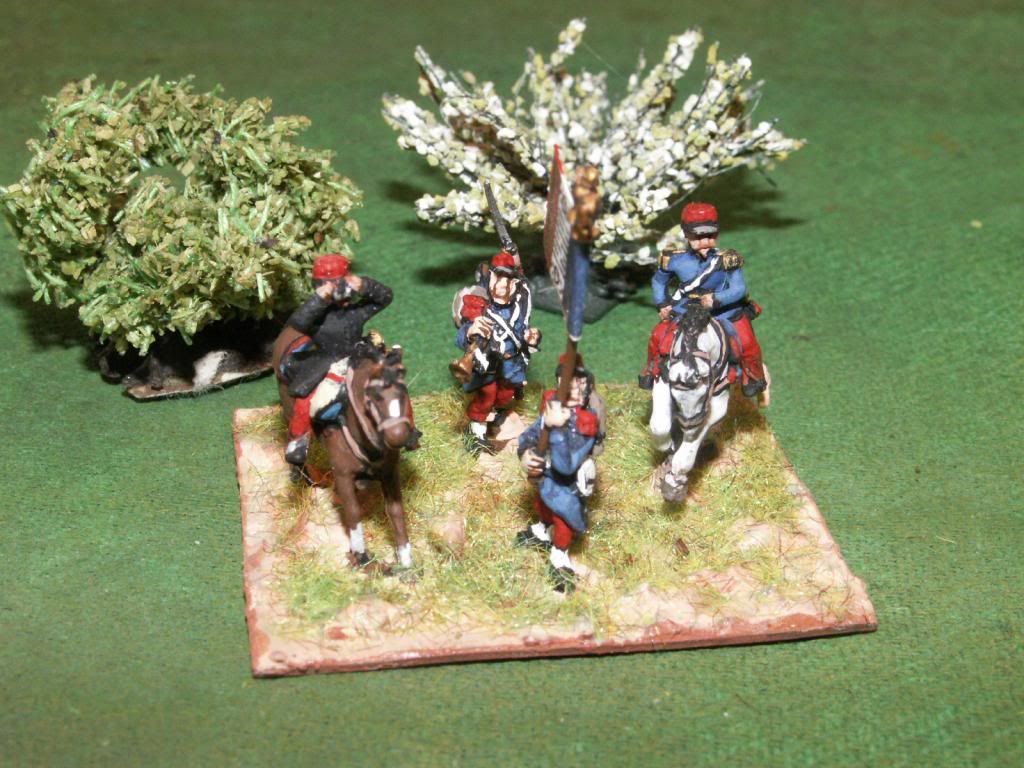 C'est maintenant aux généraux français de suivre les opérations à la jumelle, les Prussiens sont en retraite!


It is now to the French general to follow operations through binoculars, the Prussians are retreating!
...chargés par les cuirassiers français à travers la fumée des canons! 4 brigades prussiennes sont maintenant en
déroute, les ordres sont désormais clairs : sauver le maximum d'hommes...


... charged by French cuirassiers through the smoke of the guns!

4 Prussian brigades are now
routed... orders are clear henceforth : save the maximum of men ...
Méthodiques, Christophe et Ronnie organisent la poursuite...la défaite prussienne est terrible, indiscutable.


Methodical, Christopher and Ronnie organize the pursuit ... the Prussian defeat is terrible, indisputable.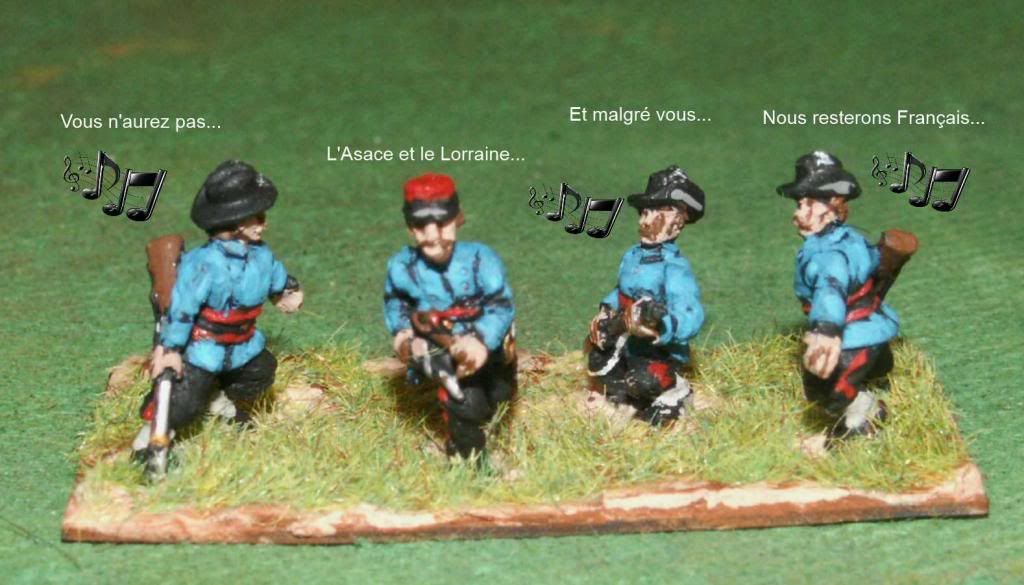 Sur le champ de bataille, nos troupes prussiennes s'enfuient, entendant au loin les prémices d'une chanson
qui sera bientôt populaire...la guerre de 1870 s'éloigne, l'esprit revanchard des Français préfigure une autre guerre, encore plus longue, encore plus meurtrière...mais ceci est une autre histoire...


On the battlefield, our Prussian troops are fleeing, hearing in the distance the beginnings of a song




soon to be popular ... the 1870 war moves away, the vengeful spirit of the French heralds another war, even longer, even more deadly ... but that's another story ...
Bienvenue à,

Welcome to...
Hope you enjoyed!