XIIIème siècle, les Mongols ont la main mise sur la Moravie et la Hongrie...
Thirteenth century, the Mongols have the upper hand in Moravia and Hungary ...
Bonjour à tous,
La partie d'aujourd'hui se déroule au XIII ème siècle,
en Hongrie. Christophe joue les farouches Mongols,
pour ma part j'ai l'armée hongroise...
Hello everyone,
Today the game is played in the thirteenth century,
Hungary. Christopher plays the fierce Mongols
For my part I the Hungarian army ...
Enluminure relatant la bataille...
Medieval Illuminated recounting the battle ...
Mon armée hongroise est en marche...au loin se dessinent les remparts de Buda.
My Hungarian army is on ... far away, the walls of Buda.
Premiers échanges : arbalétriers contre cavalerie légère...ça commence bien mal, les flèches sont efficaces,
alors que ces diables de cavaliers sont trop rapides pour mes arbalétriers...première perte!
First exchanges: archers against light cavalry ... it began badly, arrows are effective,
while these diabolic horesemen are too fast for my crossbow ... first loss!
L'armée mongole de Christophe investit le terrain.
Conditions de victoire très simples : à 8 pertes dans un camp, c'est la retraite...
The Mongol hordes of Christophe are investing the battlefield.
Very simple victory conditions : 8 losses in a side, and it's a retreat !
La situation vue de haut
The View from top
Les cavaliers des steppes, passés maîtres dans l'art du harcèlement...nous sommes au tour 4,
et je compte déjà de nombreux morts dans mes rangs...
The horsemen of the steppes, past masters in the art of harassment ... we're in round 4,
and I already count many deads in my ranks ...
Le harcèlement des cavaliers sur mon aile gauche : mes chevaliers et vougiers, bien protégés, s'avancent
sous une pluie de flèches...pour l'instant l'armure suffit à préserver la plupart de mes hommes.
Harassment of horsemen on my left side: my knights and Billmen, well protected, advance
under a rain of arrows ... for now the armor is enough to preserve most of my men.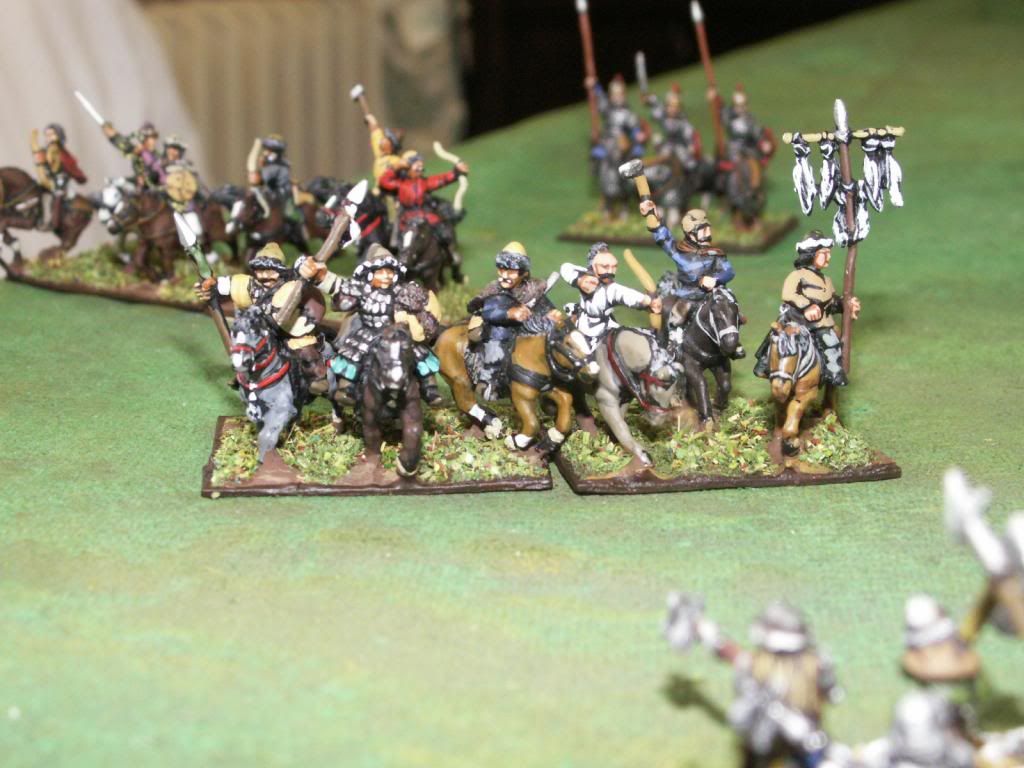 Les cavaliers mongols, impressionnants par leur vivacité et leur dextérité...


The horsemen of the steppes, impressive in their vivacity and dexterity ...
Enluminure trouvée sur une table quelques années plus tard...
Medieval Illuminated Letter found on a table a few years later ...
Mes preux chevaliers contactent enfin les insaisissables ennemis...
Finally my valiant knights contact the elusive ennemies ...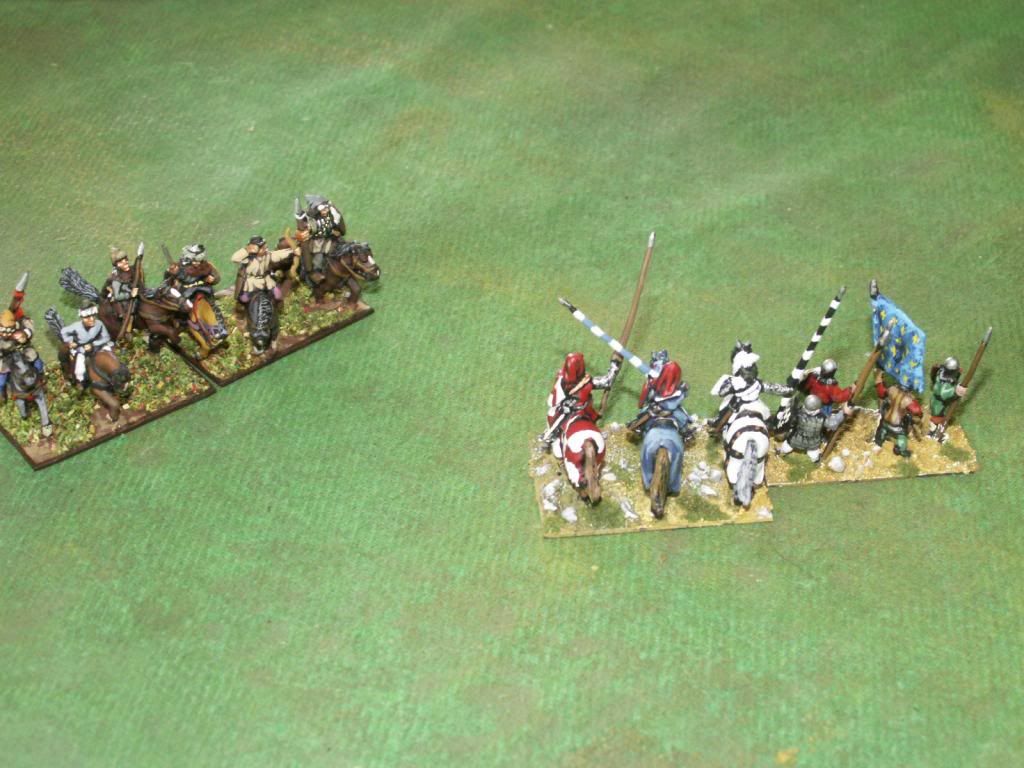 Készüljön fel díjat az bosszantó mongolok!
Situation sur mon flanc gauche au tour 7 : la situation est inquiétante, mes pertes s'élèvent à 5 stands, alors que Christophe n'en a que 3. Mes troupes, cependant, commencent à contacter l'ennemi, et c'est au corps à corps que j'espère faire la différence!
Situation on my left flank on turn 7: the situation is worrying, my losses reached 5 stands, while Christopher has only three. My troops, however, begin to contact the enemy, and it's in the melees that I must make the difference!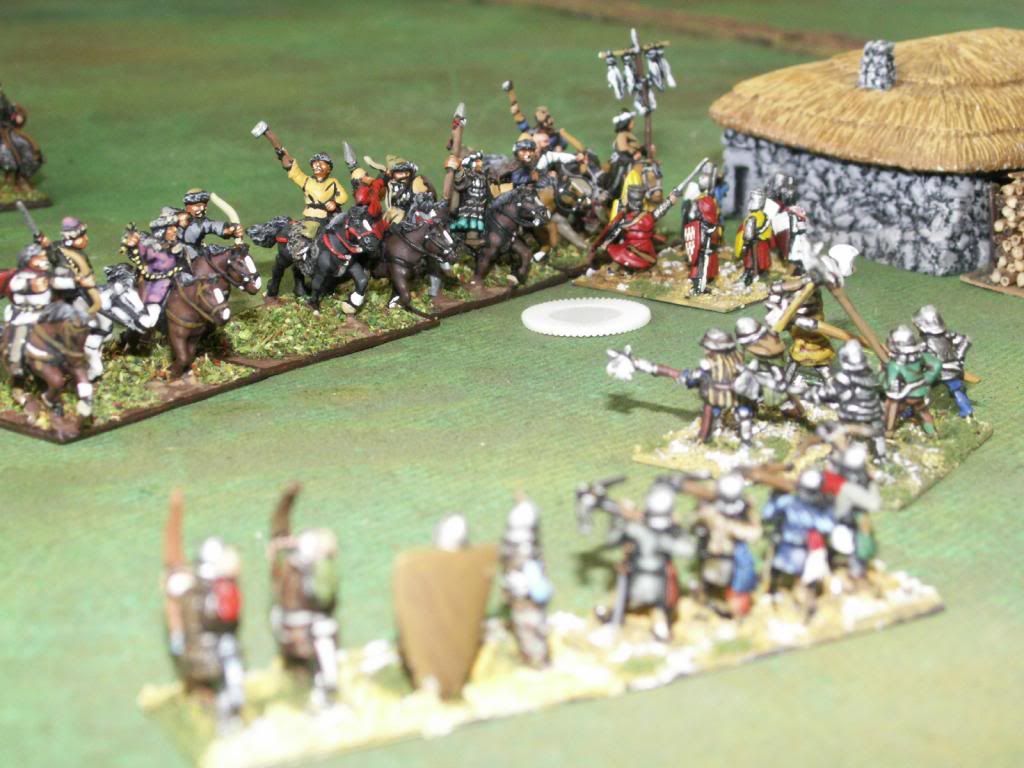 Submergés par le nombre et par les flèches, mes chevaliers à pied sont surpris et en difficulté
malgré le soutien de mes tireurs sur la gauche.


Overwhelmed by the numbers and arrows, my knights on foot are surprised and troubled




despite the support of my shooters on the left.
Grande satisfaction : ma bombarde réussit à créer une zone d'interdiction au centre. Les pertes s'équilibrent...
Satisfaction: my bombard manages to create an exclusion zone in the center.
Losses are balanced ...
La situation devient critique : les flèches mongoles sont mortelles, et nos deux armées sont proches de la rupture...
The situation becomes critical: the Mongol arrows are deadly, and our two armies are close to breaking ...
Les chevaliers mongols, une cavalerie extra lourde qui passe au travers de mes arbalétriers...
Mongolian knights, extra heavy cavalry passing through my crossbowmen ...
...vengés 10 minutes plus tard par mes féroces vougiers! La lutte sera âpre, l'armure des cavaliers lourds
me posera des soucis, même de flanc! Mais c'est la 8ème perte mongole!!
...avenged 10 minutes later by my brave Billmen! The fight will be fierce,
heavy armor of the horsemen give me worries, even by the flank! But it's the 8th loss for the Mongols!!
Parchemin final...victoire!! A l'arrachée, certes, mais victoire!!
Final parchment : victory ...!
In extremis, certainly, but victory!!
Hope you enjoyed!
Phil...
Bienvenue à, welcome to, Dave!