Les généraux prussiens, supervisés par le Prince Friedrich Karl et le roi Guillaume en personne, élaborent le plan :
couper la retraite à l'armée française, retraite qui ne peut s'effectuer que par un pont...


Prussian generals, supervised by Prince Friedrich Karl and King William in person, are preparing the plan:




cut off the retreat

of the French army, retirement can be done only by a bridge ...
Les voici, ces généraux prussiens : Dimitri, Alex et Alexis,
pour une partie d'initiation.


And here they are, those Prussian generals : Dimitri, Alex and




Alexis, for an initiation game.
Le plan : pour un nul, les Français doivent tenir le pont
à la fin de la journée, et le carrefour en plus pour une victoire...


The plan: to a draw, the French must hold the bridge




at the end of the day, and the crossroads for a win ...
L'armée française est dirigée par Christophe, Eric et moi-même.


The French army, ordered by Christophe, Eric and me.
1870 : l'avant-garde française d'une armée battue doit préparer la retraite...
Objectif : tenir le pont et, si possible, le carrefour pour permettre au gros de
l'armée de se rapprocher de Paris...
1870: the French avant-garde of a defeated army should prepare for retirement ...
Objective: hold the bridge and, if possible, the crossroads, to allow the rest of
the army to walk closer to Paris ...
Tour 1 : je décide d'envoyer ma cavalerie, composée de lanciers et de cuirassiers, droit sur le pont.


First turn : I decide to send my cavalry, consisting of lancers and cuirassiers, right on the bridge.
Les conditions climatiques sont plutôt favorables, le ciel est nuageux et après une nuit pluvieuse,
le terrain est lourd...l'artillerie de la garde s'embourbe dès le deuxième tour, on espère que les canons
prussiens bénéficieront du même traitement...il nous faut installer nos troupes bien avant eux.
Climatic conditions are favorable, the sky is cloudy and after a rainy night
the ground is muddy... the artillery of the guard gets stuck in the second turn,we hope that the Prussian guns receive the same treatment ...
we need to install our troops before them.
L'armée française est confiante en ce début de partie : les renseignements font état de Prussiens très loin du pont,
ils n'ont en ce début de journée que leur cavalerie pour nous ralentir...


The French army is confident in the early game: information report Prussians far from the bridge,




at the beginning of the day only their cavalry can slow us ...
Tour 2 : la garde essaye de se frayer un chemin vers le village...la protection du petit bois est indispensable
contre les charges de la cavalerie prussienne...


Second turn : guard tries to find a way to protect the village ... the small wood is essential




to prevent us from the Prussian cavalry charges .

..
...que voilà!


...Here it is!
Les fiers soldats de la garde investissent le village, mais ils y trouvent quelques troupes d'avant-garde prussiennes...
il faudra les en déloger!


The proud soldiers of the guard are investing the village, but there are some Prusian troops inside ...




we must dislodge them !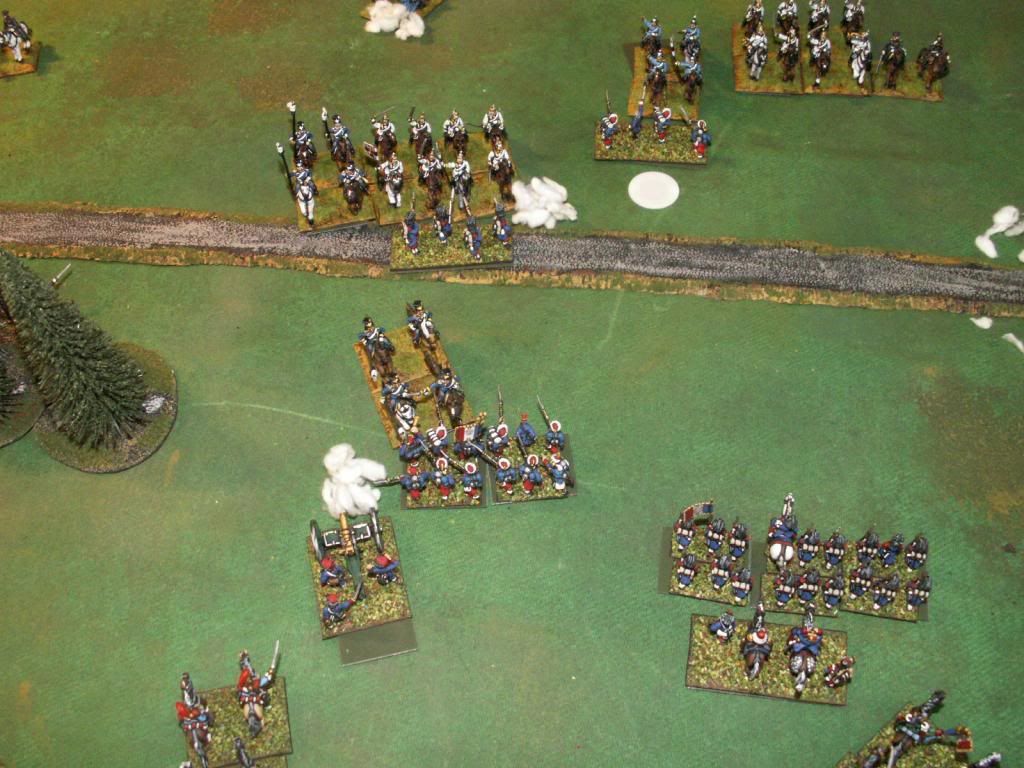 Sur l'aile droite française, Alexis lance ses cavaliers prussiens à l'assaut...trop impétueux, ses régiments
prendront le chemin de la retraite deux tours plus tard...


On the French right wing, Alexis launches Prussian cavalry to attack ... too impetuous, his regiments




take the road to retirement two turns later ...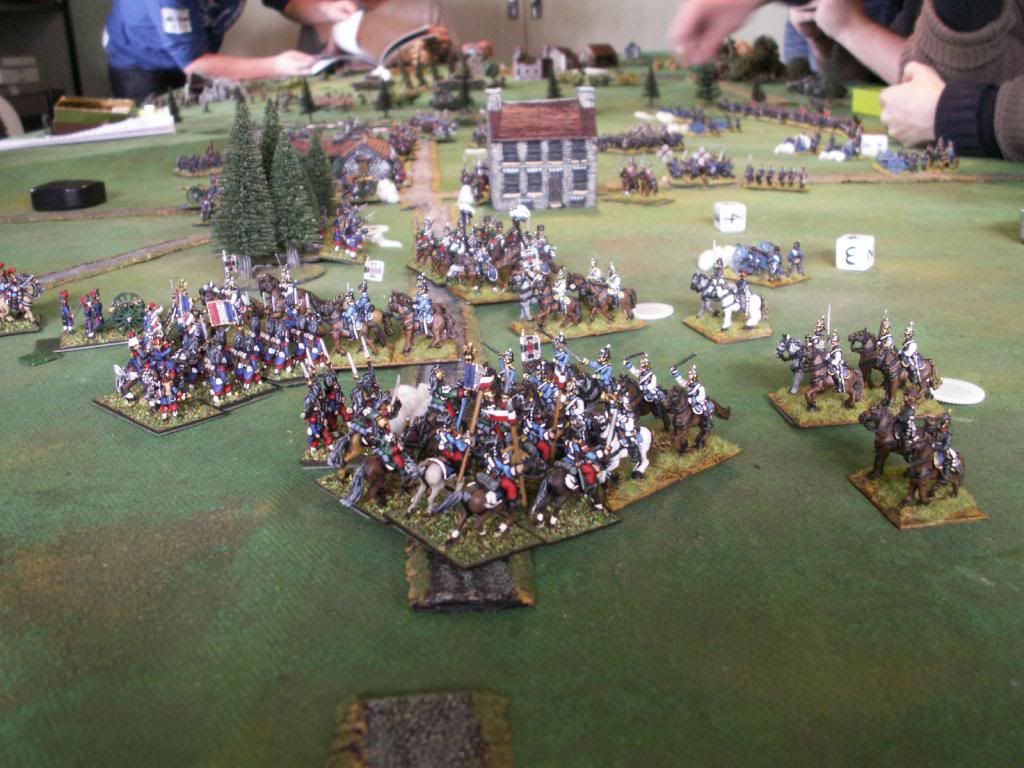 ...car la contre-attaque française est terrible! Mais le ralentissement des troupes de Christophe a
réussi, les Français sont obligés de combattre sur l'aile droite, ce qui n'était pas prévu...


...because the French couter-attack is terrible! But the slowdown of the French troops of Christophe




is successful, the French are forced to fight on the right wing, that was not planned ...
Tour 5 : les combats font rage autour du carrefour : la garde charge, un bâtiment a pris feu, les canons prussiens s'approchent, et les hommes tombent de part et d'autre...


Turn 5: fightings rage around the crossroads, the guard charges, a building caught fire, the Prussian cannon approach, and men fall from both sides ...
Mes braves cuirassiers, pour contrer l'arrivée des renforts prussiens, chargent une colonne en mouvement
...ils emporteront deux bataillons , mais seront mis en déroute...


My brave cuirassiers, to counter the Prussian arrival of the reinforcements, charge one column in movement...




they will destroy two battalions, but will be routed ...
Milieu de partie : les points de victoire sont à notre portée, mais les
renforts prussiens, ralentis dans un premier temps, sont
maintenant visibles et s'engagent...


Middle part: the victory points are within our reach, but




Prussian reinforcements, slow at first, are




now visible and engage ...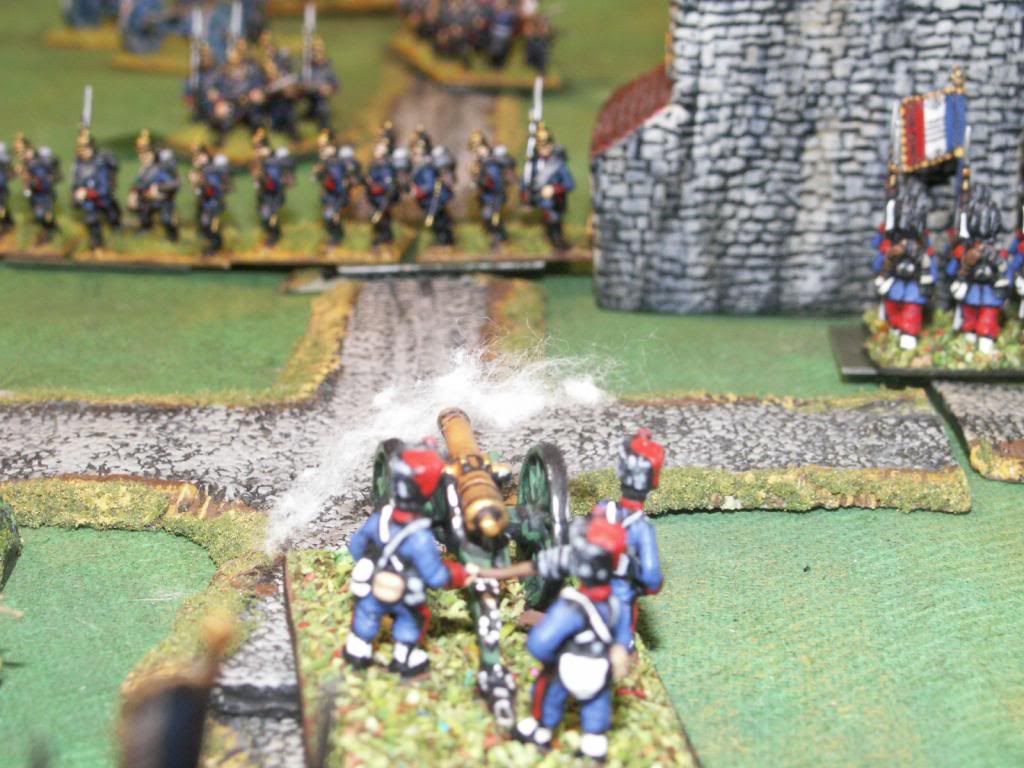 Tour 7 : la garde a repris le village, nous avons la victoire pour l'instant, mais on entend les canons prussiens
de tous côtés, la suite sera difficile...


Turn 7: Guard took over the village, we have the victory just now, but we can hear the Prussian cannons




on all sides, the following will be difficult ...
C'est alors qu'un évènement aléatoire nous réjouit! Une grosse averse s'abat sur le champ de bataille, la poudre
est beaucoup moins efficace, et comme nous avons moins de canons que les Prussiens, c'est une excellente
nouvelle...pourvu que la pluie continue jusqu'à la fin de partie!


Then a random event delights us! A downpour falls on the battlefield, the powder




is much less effective, and as we have fewer guns than the Prussians, it is an excellent




news ... as long as the rain continues!
Tour 9 : la pluie a cessé, transformant le terrain en bourbier...et les tirs prussiens redoublent! Mes troupes ont investi
le pont, mes zouaves sont en position défensive, mais les lignes prussiennes de Dimitri,
soutenues par une artillerie de nouveau efficace, seront difficiles à contenir.


Tour 9: the rain stopped, turning the ground into a quagmire ... and Prussian fires redouble!




My troops have invested the bridge, my Zouaves are in a defensive position, but the Prussian lines of Dimitri




supported by effective, once again, artillery , will be difficult to contain.
D'autant que sur ma droite une rumeur enfle : les Prussiens ont chargé le village, et la garde d'Eric vacille...


On my right a rumor swells the Prussians charged the village, and the Guard of Eric wobbles ...
Horreur : nous sommes au neuvième tour, et la garde abandonne le village : Alex et Alexis bousculent
les Français au centre!


Horror: we are in the ninth round, and guard leaves the village: Alex and Alexis are scrambling




the French in the center!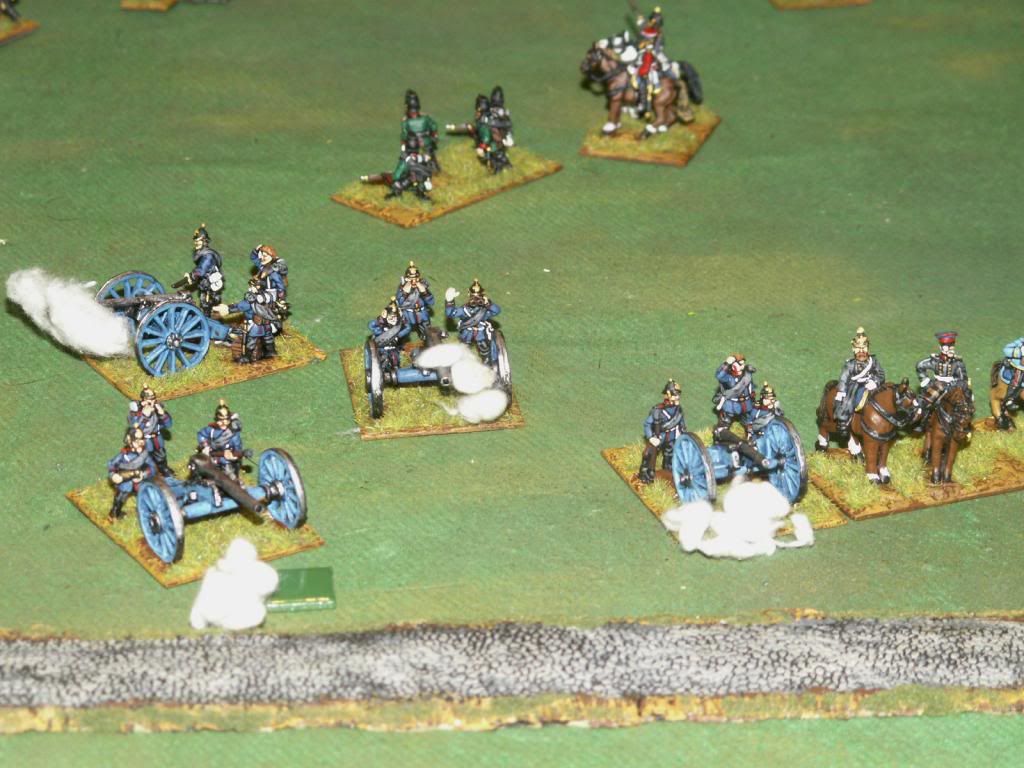 Le déluge, non plus de pluie, mais de boulets! Partout l'artillerie prussienne tire, et Eric est contraint à la retraite...


The flood, nor rain, but with balls! Everywhere the Prussian artillery fires, and Eric is forced to retire ...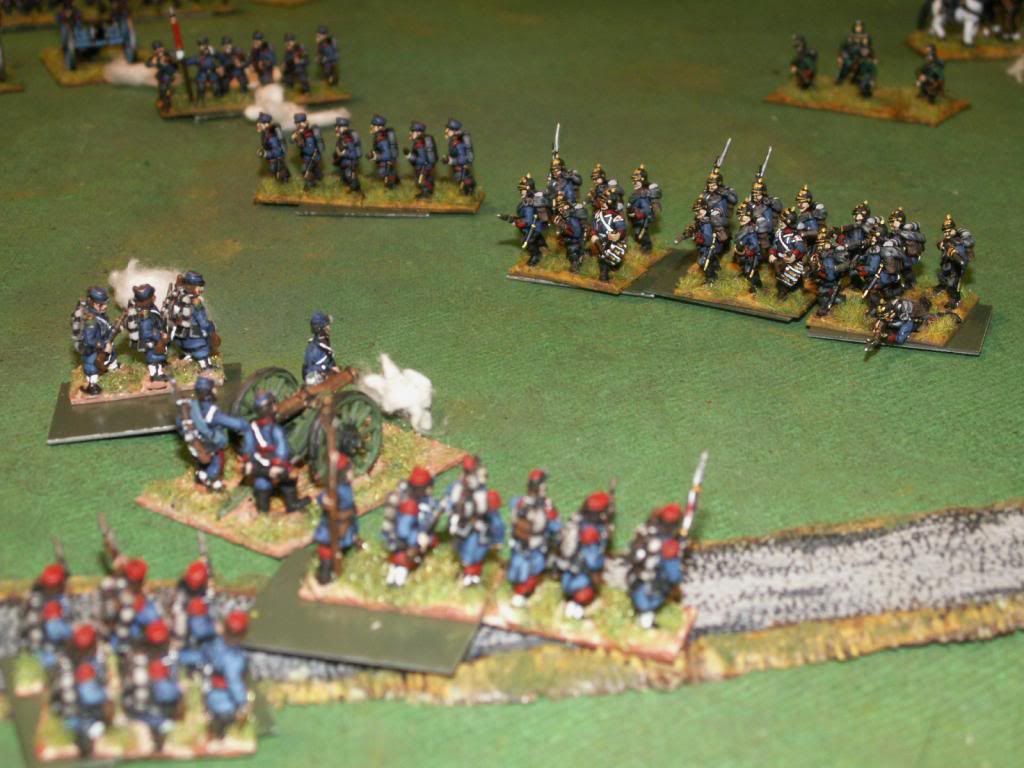 De mon côté, il me reste une division, le match nul est encore à notre portée...mais déjà les casques à pointe
progressent vers ma position, mon chassepot aura raison de quelques bataillons, mais le corps à corps est
inéluctable, le doute s'installe chez mes officiers...


From my side, I still have a division, the draw is within our grasp ... but already spiked helmets




are moving towards my position, my chassepot will destroy some battalions,




but melee is inevitable, and doubt settles in my officers ...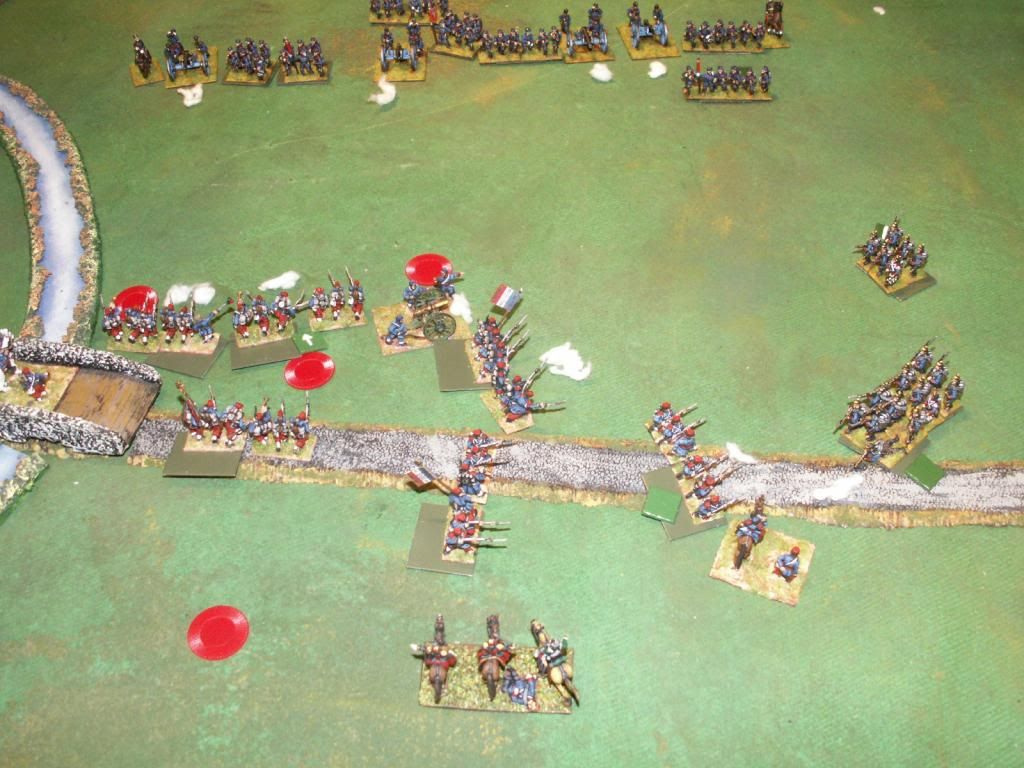 12ème tour : Dimitri en est à faire du tir au pigeons, mes bataillons partent au moral (marqueurs rouges) sous
le feu incessant des canons prussiens...c'est une défaite!


12th turn : Dimitri has no heart, he shoots again and again, my battalions miss morale checks (red markers) in




incessant fire of Prussian cannon ... it is a defeat!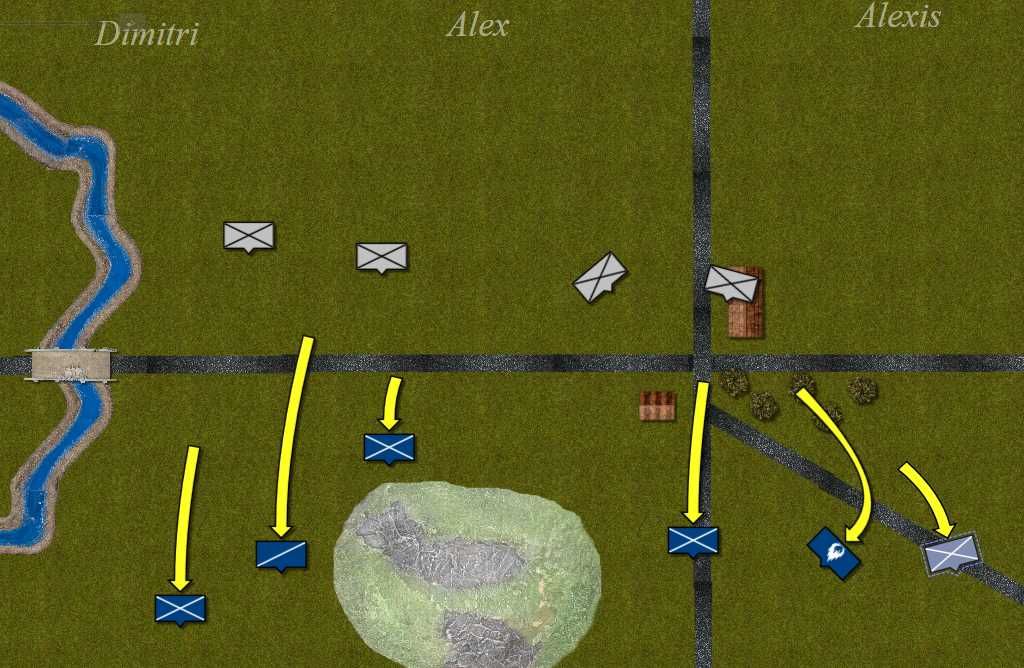 En deux tours, l'armée française est passée d'une victoire à une défaite, la
route de Paris est coupée, et les Prussiens devront choisir entre Paris et la
poursuite de nos bataillons en retraite...mais ceci est une autre histoire...


In two turns of the French army went from victory to defeat,




Paris road is cut, and the Prussians must choose between Paris and




pursuit of our battalions retreating... but this is another story ...
Hope you enjoyed!

Phil...