Les bagages de l'armée américaine : en cette fin de mois de juin, la pression anglaise est forte,
et le point de ralliement des troupes primordial.



The baggage of the american army at the end of June, the British pressure is high,




and rallying troops is paramount.
Bonjour à tous!
Guerre d'indépendance américaine ce dernier week-end au club, avec la bataille de Monmouth...
AWI last week end, with the battle of Monmouth...
Georges Washington ordonne le 26 juin 1778 à Charles Lee, l'ancêtre du célèbre Lee, d'attaquer l'arrière-garde anglaise conduite par Charles Cornwallis. Cette attaque se produit le 28 juin, et après quelques combats les Américains replient, et les attaquants deviennent les poursuivis...
George Washington ordered June 26, 1778 to Charles Lee, the ancestor of the famous Lee, to attack the English rearguard led by Charles Cornwallis. The attack occurred on 28 June, and after some fights the Americans retreated and the attackers become the pursued...
Sous un soleil de plomb, l'armée anglaise poursuit les forces américaines avec des troupes d'élite : les Anglais et leur feu destructeur, la Garde, et les grenadiers Hessois, alliés de qualité.
Under a blazing sun, the English army pursues American forces with elite troops: the English and their destructive fire, the Guard, and the Hessian grenadiers, allies of quality.
Fiers et arrogants, les Anglais Christophe et Ronnie.


Proud and arrogant, English team : Christopher and Ronnie.
Face à eux, les soldats américains sont paniqués...George Washington, après un échange assez vif,
démet Charles Lee de ses fonctions, et commande lui-même les troupes continentales,
moins nombreuses et de moins bonne qualité...mais les renforts sont attendus...
Facing them, the American soldiers panicked ... George Washington, after a rather sharp exchange,
resigns Charles Lee from office, and commands the continental troops himself
fewer and lower quality ... but reinforcements are expected ...
Sages et réfléchis, les Américains Jacques et Phil...restons objectifs...


Wise and thoughtful Americans Jacques and Phil...let's remain neutral...
Le plan, simple : Jacques doit tenir l'aile droite, moi l'aile gauche...le centre restant notre point faible : en attendant les renforts, il est désert!


The plan, simple: Jacques must hold the right wing, left wing for me ... the center is our very weak point: in waiting for reinforcements, it is deserted!
Aile gauche de la bataille : je dois tenir Craig Farm.


Left wing : I must hold Craig Farm.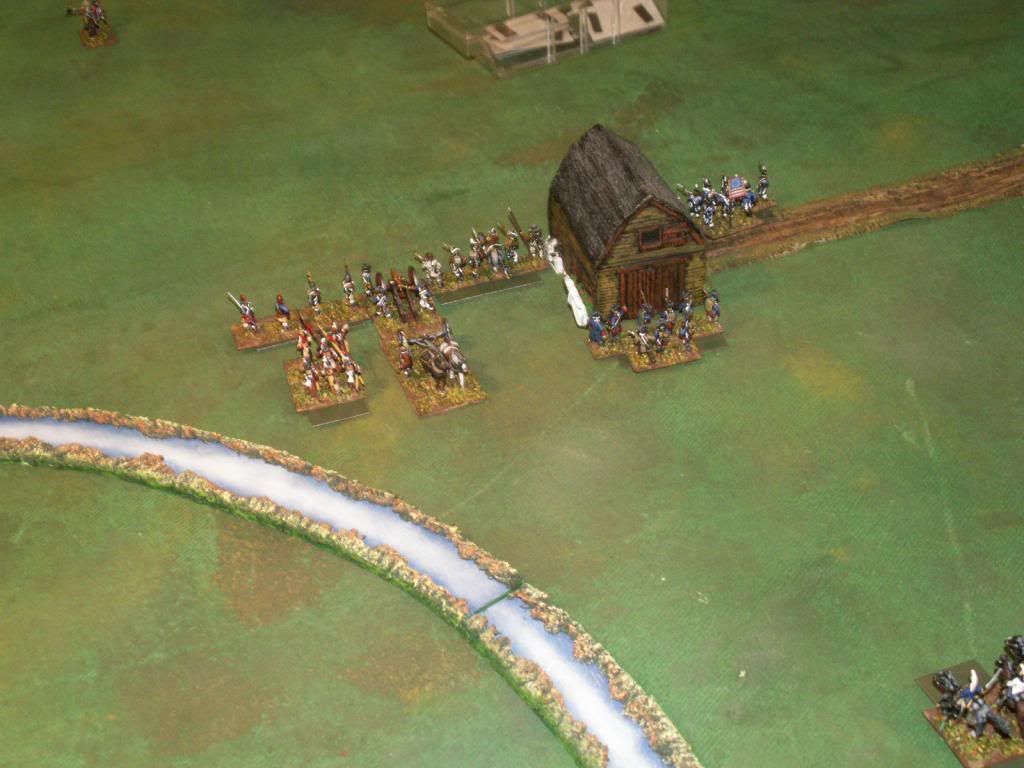 Et l'aile droite : Jacques défend Parsonage Farm.


And right wing : Jacques defends Parsonage Farm.
La canicule de cette journée compte : les renforts Hessois d'un côté, les régiments
du général Knox de l'autre, auront bien du mal à marcher...les vautours veillent!
The heat of the day is important : Hessian reinforcements on one side, the regiments
of the General Knox on the other, will be hard to walk ... the vultures are supervising!
George Washington, futur premier président des Etats Unis et héros de la journée. Pour traduire ses actions d'éclat,
un jet de dé en tir et en combat peut être retiré par phase de jeu...on en aura bien besoin!


George Washington, the future first president of the United States and hero of the day. To translate his brilliant actions,

a dice roll in firing and combat can be replayed by phase of play .. we will need it!
Des officiers tout aussi élégants du côté de la couronne britannique : les batteries sont installées : messieurs les Anglais...


Officers equally elegant on the British crown side : the batteries are installed: "messieurs les Anglais .."
Aile gauche : Ronnie et Christophe ont décidé de porter leur effort sur mes troupes : les feux retentissent,
et pour l'instant je tiens.


Left wing: Ronnie and Christopher decided to bring their efforts on my troops : shootings are numerous,




and for the moment I hold this point.
Mais voilà qu'apparaissent déjà les grenadiers Hessois, alors que nos renforts sont loin, si loin...leurs tambours, entendus de plus en plus près, sonneront-ils le glas des espoirs américains?


But here, Hessian grenadiers are already appearing on the battlefield , while our reinforcements are far, far away ...will their drums, heard more and more closely, sound the death knell of American hopes?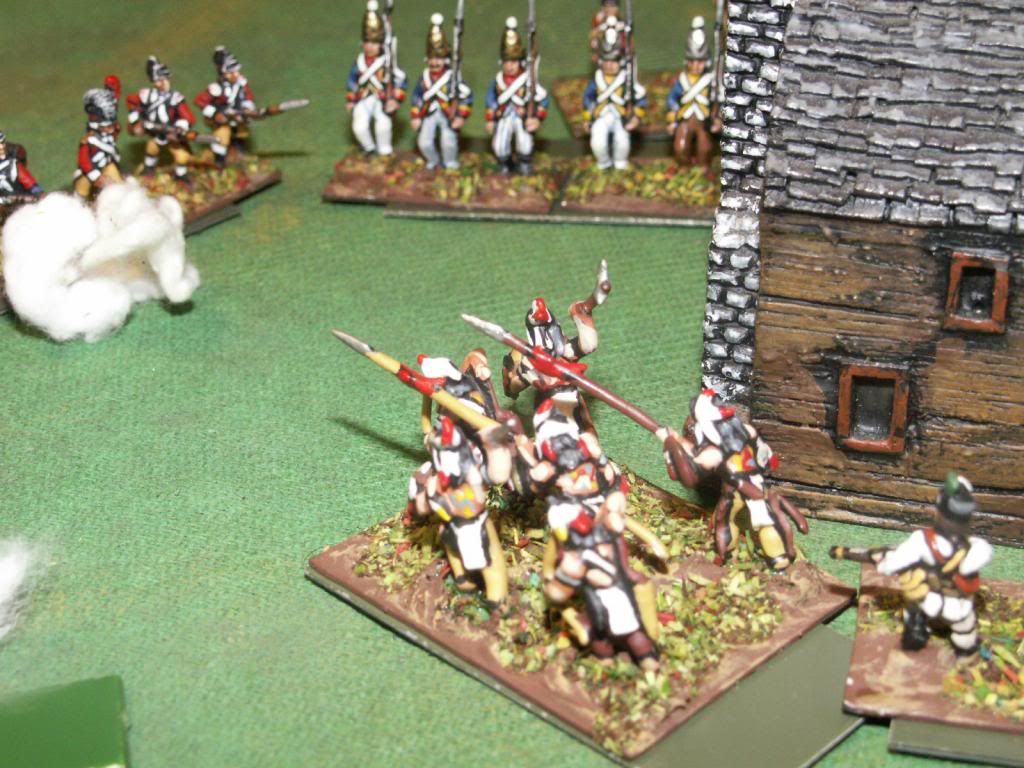 Après trois tours de durs combats, il me reste à envoyer mes braves Indiens à l'assaut...mais Christophe a eu le temps de se déployer, lances et haches ne goûteront pas le sang anglais aujourd'hui!
After three rounds of hard fighting, I have to send my brave Indians to attack ... but Christophe took the time to deploy, spears and axes will not taste English blood today!
Les habits rouges progressent, et n'auront de cesse de tirer pendant cette partie.


The redcoats are progressing, and will constantly fire in this battle.
Tour 5 : pour ne pas me faire encercler, je dirige ma batterie pour protéger mon flanc gauche.


Tour 5: to protect my left flank. I'm moving my battery.
...mais les assaillants sont nombreux, et nos renforts encore très loin!


...but the attackers are numerous, and our reinforcements still very far!
Sur notre droite, Jacques résiste mieux que moi, notre canon de 75 fait des dégâts considérables sur les lignes anglaises.


On our right, Jacques is resisting better than I, our 75 gun caused considerable damage to the British lines.
Tour 7 : charges de Ronnie sur Parsonage Farm, les combats sont terribles de ce côté!


Tour 7: Ronnie is charging on Parsonage Farm, the battles are terrible on this side!
Tour 8 : c'en est fini de ma division, avant même d'avoir reçu la totalité de mes renforts, mes hommes craquent au moral.
Round 8: This is the end of my division, before having received all my reinforcements, morale check is missed, and my men are withdrawing.
Le drapeau anglais du régiment des Queens Rangers, des Tories fidèles à la couronne, flotte sur le champ de bataille.


The English flag of the regiment of Queens Rangers, Tories loyal to the crown, floats on the battlefield.






On n'a plus qu'à plier bagages! Mes quelques hommes encore vivants entendent au loin les tirs et les cris des régiments de Jacques, qui continue d'en découdre avec Ronnie...mais le terrain est anglais et la victoire sans appel!


We only have to pack and leave! Some of my men still living can hear off the shots and the screams of the regiments of Jacques, who continues to battle with Ronnie ... but the field is English and the victory is without appeal!
On s'vengera à la prochaine partie, Jacques, dans l'ouest américain peut-être...mais ceci est une autre histoire...


We will take revenge in the next game, Jacques, in the American West maybe ... but this is another story ...
Un scénario puisé dans le magnifique recueil ci-dessus! A noter que quelques
unités (indiens, cavalerie) ont été rajoutées à l'effectif historique...


A scenario drawn from the magnificent collection above! Note that some




units (Indian, cavalry) were added to the historical troops...
Bienvenue aux nouveaux membres,
welcome to our new members
: