La une du journal L'illustration du 15 août 1870...
The front page of the french newspaper 'L'illustration', August 15 1870...Sorry,
no translation, a french newspaper with french puns!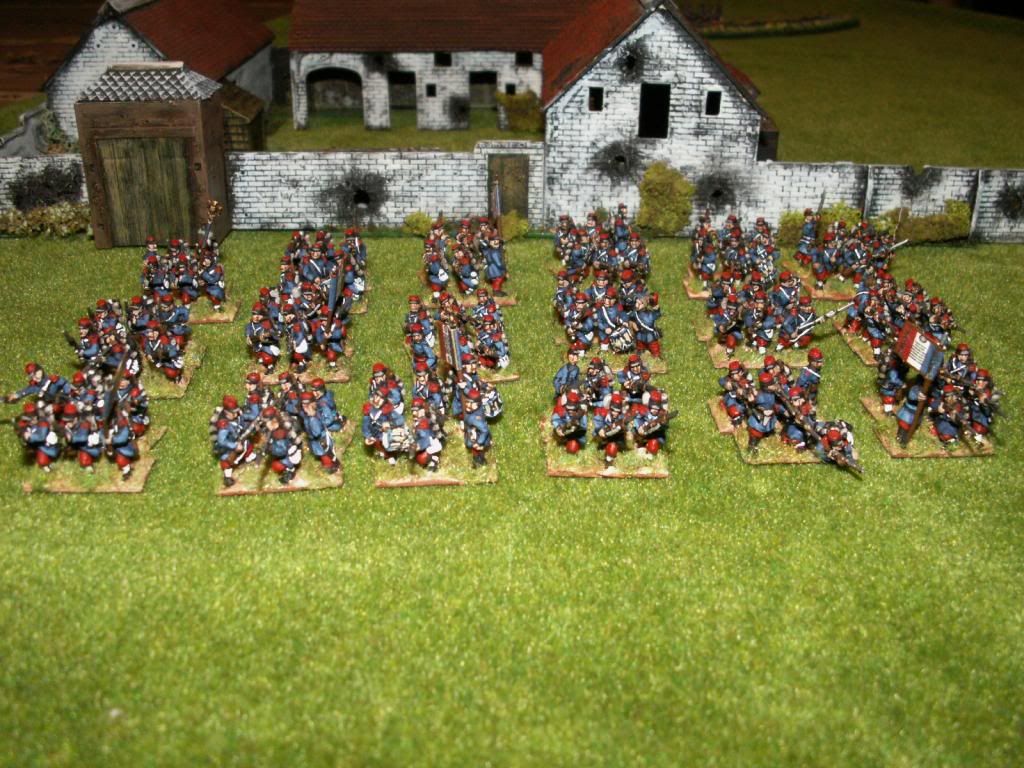 Les bataillons prennent la pose pour le reporter de guerre...Avec l'apparition de la photographie
les conflits prennent une tournure plus médiatique...



Battalions are posing for the war reporter ... With the advent of photography




conflicts take on another dimension...
Bonjour à tous,
Les pinceaux s'agitent pour 1870 au club
Tout juste débarqués du train, les zouaves, clairons au bec, képis à la baïonnette, sont prêts à en découdre...


Just disembarked from the train zouaves, bugles to the spout, kepis at the bayonet, are ready to fight ...
Les troupes alliées Turcos, le premier régiment de tirailleurs algériens, viendront courageusement épauler l'armée impériale...


Turcos Allied troops, the 1st algerian regiment, will courageously support the imperial army ...
Un peu plus loin du front, les cartes sont analysées...sabre et pistolet pourraient être utiles en cas de divergences!


A little further from the front, the cards are analyzed ... sword and pistol could be useful in case of diverging views!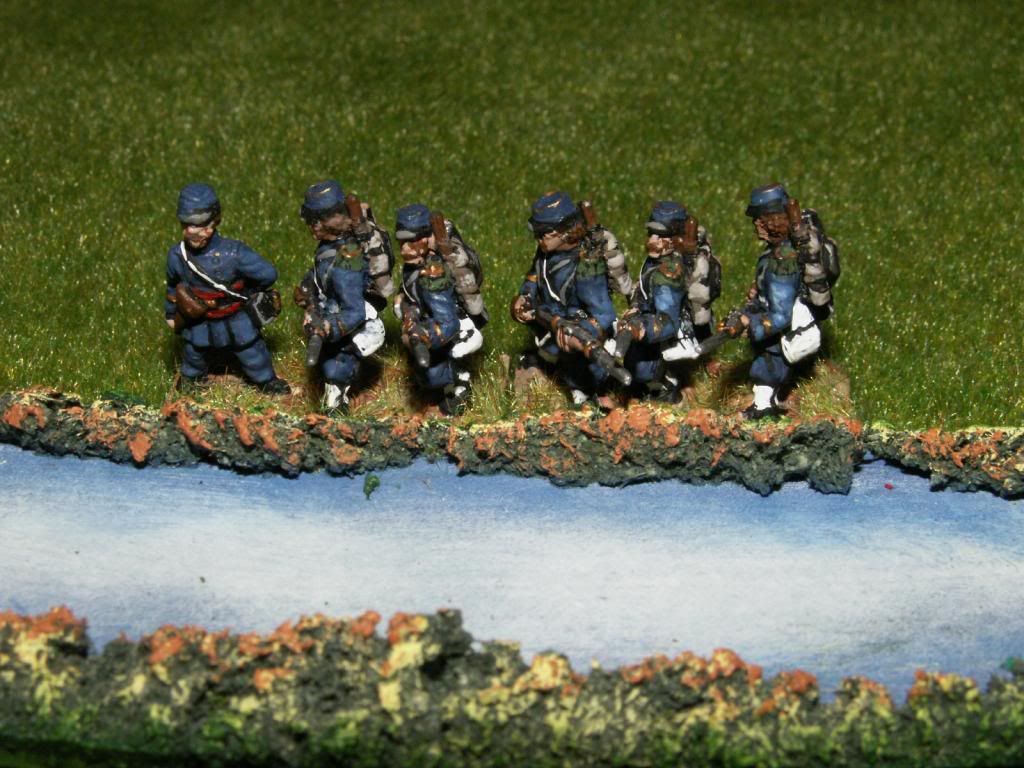 Un affluent de la Meuse surveillé par un bataillon de chasseurs à pieds.


A tributary of the Meuse guarded by a light battalion.
Tambour battant, la ligne progresse...


Drums beating, the line is progressing ...
...les flancs protégés par les cuirrasiers...


...sides protected by cuirrasiers ...
...et par les tirailleurs.


...and by skirmishers...
L'artillerie française en 1870...une mission délicate face à son homologue prussienne : les canons en acier Krupp ont une plus grande portée et sont plus précis que les canons en bronze français...


The French artillery in 1870 ... a delicate enterprise face with its Prussian counterpart.

Krupp steel guns have a longer range and are more accurate than the French bronze cannons ...
Un renfort de choix à Gravelottes...un cavalier du 2ème régiment de hussards
qui s'est immiscé dans le tableau originel...


Reinforcement of choice ... a horseman from the 2nd cavalry regiment of the hussars




which interfered in the original Gravelottes painting ...
Haut les couleurs! Les jumelles sont utiles pour voir la guerre...de loin!


High the colors! Binoculars are useful to see the war ... by far!
Les chasseurs à cheval protègent un moulin.


The chasseurs à cheval protect a mill.
Lanciers français en 1870.


French lancers in 1870.
Les figurines présentées ici sont majoritairement Essex et Old Glory, 15mm, peintes par Ronnie.
Textes et photos Phil.
Un peu plus loin, barricadés, ce sont les Prussiens de Dimitri qui attendent de pied ferme les Français...Ronnie en a-t-il assez peint pour remporter la victoire? La réponse bientôt...mais ceci est une autre histoire...


A little further, barricaded, Dimitri's Prussians are waiting, firm footing, the French ... has Ronnie enough




painted to win? The answer soon ... but this is another story ...