Chariots et attelages sont au coeur de cette partie : la retraite de Russie en octobre 1812...


Carts and limbers are at the heart of this part: the retreat from Russia in October 1812 ...
Greetings everyone!
Привет всем!
18 octobre 1812...alors que le brouillard commence à se dissiper,
l'avant-garde du roi de Naples s'apprête à reprendre sa progression
vers le nord, la retraite n'en est qu'à ses débuts.
Chargée de butin, de chariots et d'attelages, la Grande Armée déjà maladive doit rejoindre
le village de Spass Kouplia, seule voie d'issue pour une armée aux abois...
October 18, 1812 ... as the fog begins to dissipate,
the vanguard of the King of Naples is about to resume its growth
north, retirement is only in its infancy.
Laden with booty, carts and limbers, the "Grande armée" already sick must join the
village Spass Kouplia, the only escape route for an army at bay ...
Le brouillard de la campagne de Russie...


The fog of the Russian Campaign...
Les généraux français discutent tranquillement d'une tactique...Christophe donne des instructions claires à Serge sous le regard approbateur du général en chef Alexandre...
The French generals are quietly discussing a tactic ... Christophe is giving clear instructions
to Serge, under the approving eye of the commander Alexander ...
...pendant que les généraux russes, fiers, sont sûrs de leur victoire...Phil, Cédric et Benoit défendront leurs terres.
...while the Russian generals, proud, are sure of their victory ... Phil, Cedric and Benoit must defend their land.
Tour 1 : les Français sont dans leurs cantonnements et s'attendent à une attaque par le sud...


First turn : the french army is in its cantonments, and are waiting a south attack...
Le terrain au départ : les pions rouges symbolisent les chariots, qui doivent être activés
(4,5 ou 6 sur 1d6) pour pouvoir bouger...


The field at the start: the red pawns symbolizing the carts, which must be activated




(4.5 or 6 on 1d6)

in order to move ...
Points de victoires : 2PV par unité détruites, 2PV par chariot sauvé par le Français,
1PV par chariot détruit par le Russe.
Victory points : 2VP for each detroyed division, 2VP for each cart saved by the french players,
1VP for each cart destroyed by the russian players.
Coup de théâtre dès le premier tour : mes braves cosaques arrivent de flanc, par l'est,
sur le corps de cavalerie de Christophe.


Coup de theater in the first turn : my brave Cossacks arrive on the east flank,




on the cavalry corps of Christophe.
Les premiers attelages quittent Vinkowo...Alexandre choisit de quitter le village avec ses bagages
et le contingent de la Vistule. Serge, alias le général Dufour, devra tenir seul le village.


The first limbers are leaving Vinkowo ... Alexander chooses to leave the village with his luggage




and the contingent of the Vistula. Serge, aka General Dufour, must hold the village, alone!
Tour 3 : les Russes arrivent progressivement...


Turn 3 : russian troops arrive gradually...
Les cosaques n'auront de cesse de harceler l'ennemi...


The Cossacks will constantly harass the enemy ...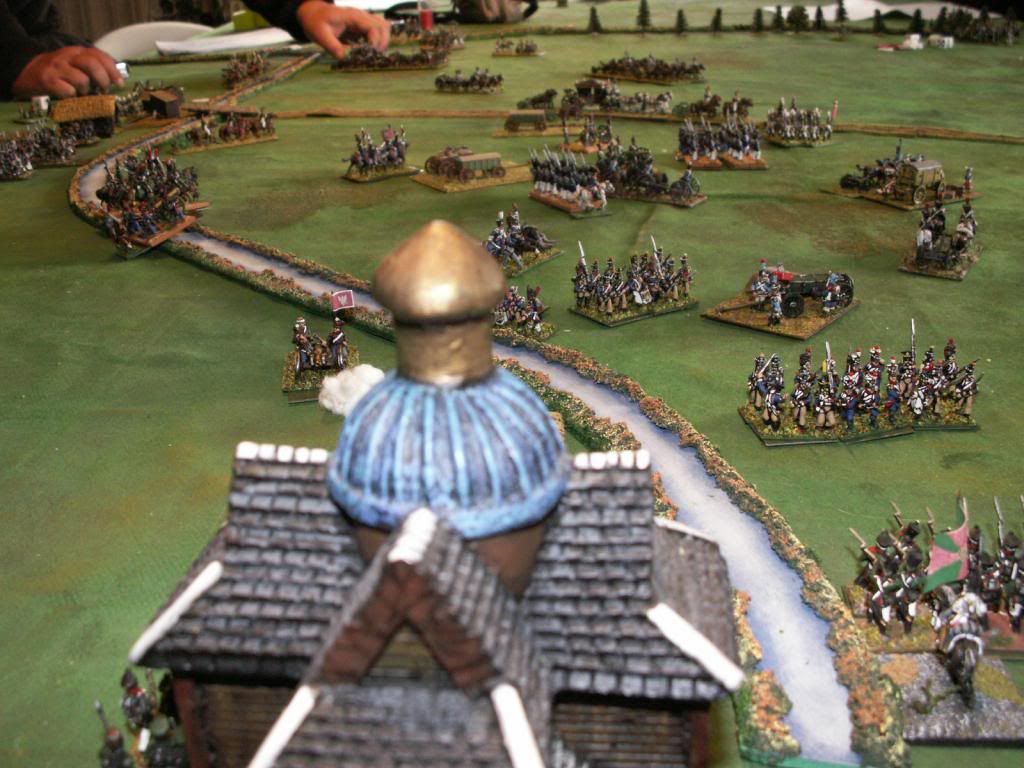 Du haut du dôme de Bukowinski, on a pu voir les premiers
bataillons russes progresser...


From the top of the dome of Bukowinski, we could see the first




Russian battalions progressing ...
...s'approcher des Polonais...


...approaching Poles ...
...et se faire massacrer! Benoit perd 3 bataillons de ligne russe
en un tour,
le feu polonais est terrible!
...and get slaughtered! Benoit loses three
Russian
line battalions
in a single turn, Polish fire is terrible!
La résistance acharnée des troupes franco-polonaise permet aux premiers attelages de traverser la rivière,
poussés par les fantassins déjà éprouvés...


The fierce resistance of the Franco-Polish troops allows first carriages to cross the river,




driven by the infantry already tired...
Tour 5 : les Russes, de plus en plus nombreux sur la table, ont réussi à prendre quelques chariots...pendant que les Français commencent à en sauver d'autres...
Turn 5: Russians, more and more numerous on the table, manage to take a few carts ... while the French
players begin to save others ...
Le front se stabilise à l'est. Mes cosaques harcèlent toujours l'ennemi, et la division russe de Bagowouth est arrivée : cette fois les Polonais de Alexandre auront du mal à enrayer l'avance des Russes, deux fois plus nombreux...


The stabilized front in the east. My Cossack always harass the enemy, the Russian division of Bagowouth arrived: this time the Poles of Alexander will struggle to halt the Russian advance, twice as many ...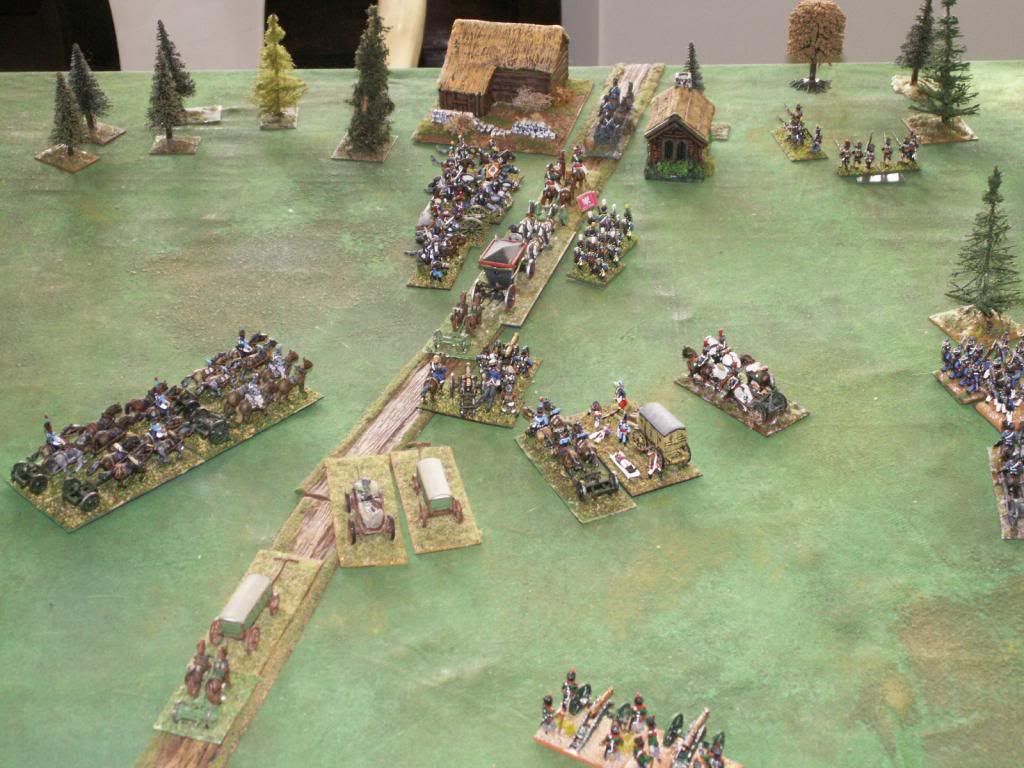 C'est l'embouteillage sur la seule voie de retraite possible : les points de victoire s'échappent pour les Russes...


A lot of people on the only way possible for retirement: victory points are escaping for the Russians ...
Tour 6 : les Français mènent au score, 14 à 10...pour ma part, je n'ai plus guère d'unités en état,
Serge et Christophe se défendent comme des lions, et mes alliés russes sont les bienvenus...
Round 6: the French lead the score, 14-10 ... For my part, I do not have much units in condition :
Serge and Christophe defend like lions, and my Russian allies are welcome ...
Les officiers polonais, brillants en cette journée.


Polish officers, very courageous on this day.
C'est au tour des grenadiers russes d'attaquer. Les artilleurs polonais, de l'autre côté de la rivière, doivent tenir.


It is the turn of Russian grenadiers attack. Polish gunners on the other side of the river, must hold.
Tour 8 : en jaune, mes unités qui déroutent...en gros je n'ai plus rien...Cédric et Benoit sont bien décidés à me venger!
Round 8: in yellow, my units rout ... basically I have nothing more ... Cedric and Benoit are
determined to revenge myself!
Vinkowo : le général Dufour, alias Serge, est isolé et doit faire face aux artilleries à cheval russe. Qu'à cela ne tienne, il charge, perdra un bataillon, mais emportera la batterie!


Vinkowo: General Dufour, aka Serge, is isolated and has to face the Russian artillery horse. Never mind, he charges, loses a battalion, but takes the battery!
Vinkowo est sauvé! Serge tient le village...mais qu'adviendra-t-il de cette division française, héroïque mais lâchée par le gros de l'armée? Au loin, Christophe et Alexandre tiennent vaillamment face aux Russes de Benoit.


Vinkowo is saved! Serge holds the village ... but what will happens to this French division, heroic but dropped by the main army? Far away, Christophe and Alexandre hold valiantly against the Russians of Benoit.
Derniers tours : les artilleurs polonais, même blessés, défendent la rive nord...


Last turns : Polish gunners, even wounded, are defending the north shore ...
...mais cèdent sous le nombre! Les Russes sont partout maintenant...Cédric et Benoit inondent le champ de bataille,
alors que je n'ai plus de troupes...
.

.. but are outnumbered! Russians are everywhere now ... Cedric and Benoit are flooding the battlefield,




while I have no more troops ...
Les blessés français sont pris en charge...pour l'instant, car il va falloir fuir!


French casualties are supported ... yet, because the ambulance will have to flee!
Tour 9 : Cédric, à la tête de ses dragons russes, chevauche sur le champ de bataille et emporte quelques attelages pendant que quelques unités françaises replient...la victoire semble à portée!
Turn 9: Cedric, at the head of his Russian dragoons, is riding on the battlefield and carries few limbers
while some French units are withdrawing ... victory seems at hand!
Les chariots s'évacuent, petit à petit...


The carriages are evacuated gradually ...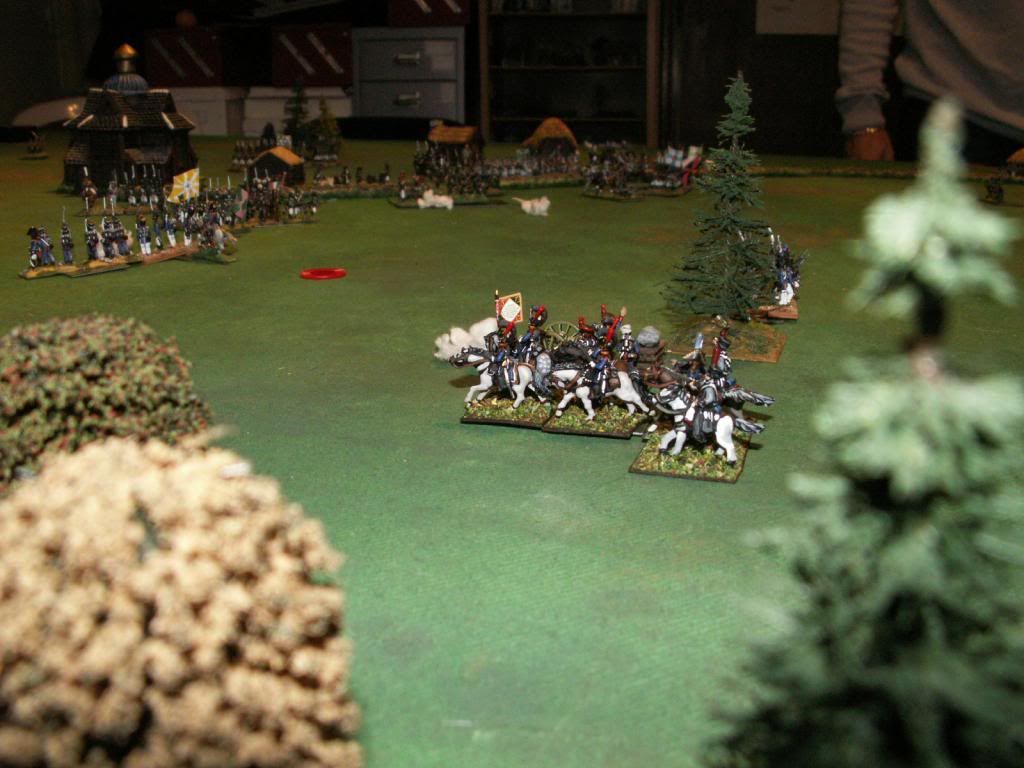 Le 4ème corps de cavalerie, ou plutôt ce qu'il en reste,
protège le flanc gauche de l'armée française qui replie.


The 4th Cavalry Corps, or rather what remains of it,




protect the left flank of the

withdrawing

French army .
Et maintient à distance les bataillons russes...mais pour combien de temps?


And maintains away Russian battalions...

but for how long?
Au tour 10 les comptes sont faits : 22 à 20 pour les Russes!
Victoire marginale russe, tout s'est joué au dernier tour...
Turn 10, accounts are made: 22 to 20 for the Russians!
Russian marginal victory, everything was played in the last turn...
Последний раунд: 22-20 для русских ...
Ура, да здравствует Родина!
Quelques semaines plus tard, l'hiver russe s'ajoutera aux malheurs français...les mêmes cosaques retrouveront les fuyards près d'une rivière jusqu'alors tranquille...la Bérézina...mais ceci est une autre histoire!


A few weeks later, the Russian winter will be added to the french troubles ... Cossacks gather the fugitives near a




quiet river previously quiet...Berezina ... but that's another story!
Bienvenue à Thomas, Apa, Tarty, John de Terre Neuve et Anne...
Welcome to Thomas, Apa, Tarty, John de Terre Neuve and Anne...
Hope you enjoyed!