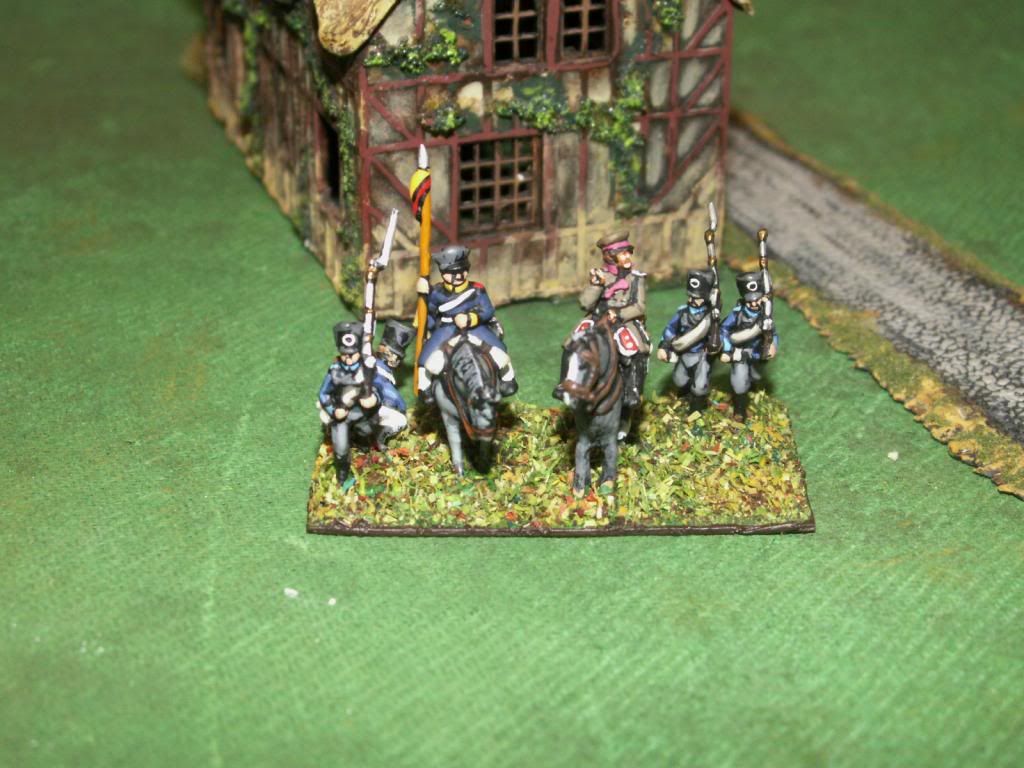 Nach Paris !

Bonjour à tous!
Tous les chemins menaient à Paris en ce dernier week-end...
Prussiens et Russes se dirigent vers la capitale française,
bien décidés à camper dans la ville en fin de journée.
Hello everyone!
All roads led to Paris this last weekend ...
Prussians and Russians are moving towards the French capital,
determined to camp in the city in the late afternoon.
Serrez les rangs! Voilà ce qui m'attend : la Vistule, une pièce de 12, derrière des abris, et en hauteur...Vodka pour tous!


Close up the ranks! That's what I must attack : the Vistula, a battery of 12, behind shelter, and in height ...




Vodka for everyone!
En face d'eux, des bataillons de jeunes recrues, mal entraînées mais très motivées, ayant monté à la hâte des barricades sur toutes les routes.
In front of them, battalions of recruits, poorly trained but highly motivated, having hastily mounted barricades on all roads.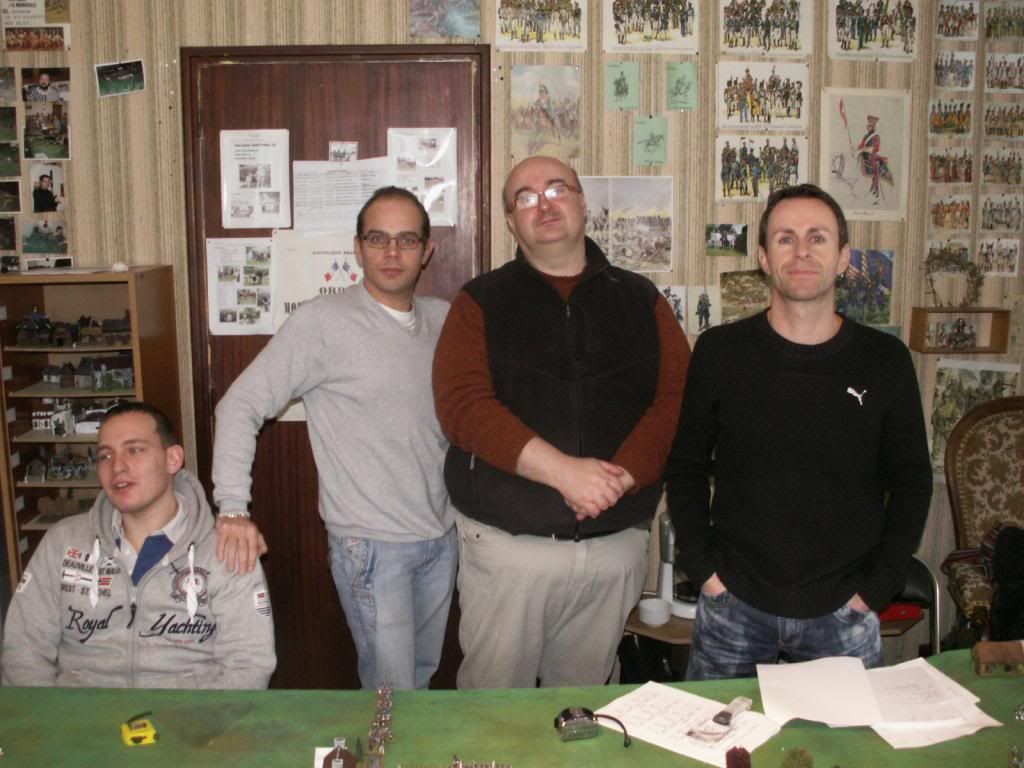 Les Français Gael, Cédric, Pierre et Benoit.


The French team...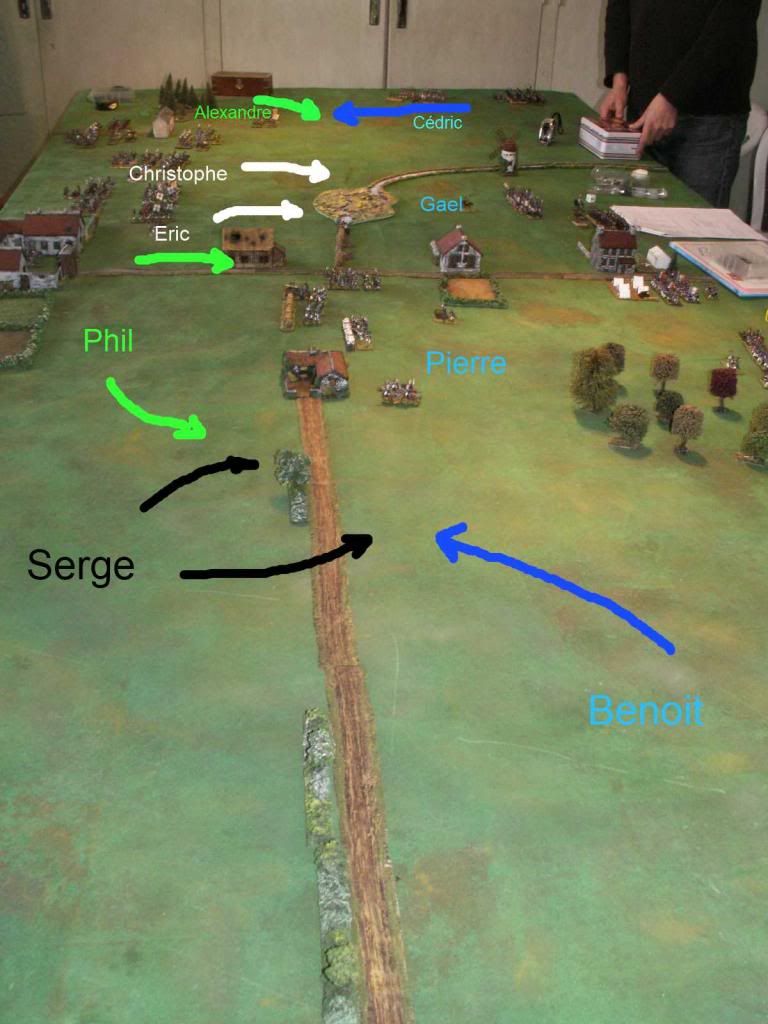 Le plan initial : côté français Pierre et Gael tiennent le centre pendant que Benoit et Cédric
s'occupent des ailes, et côté coalisé...euh...on attaque partout...


The original plan: on the French side Pierre and Gael hold the center while

Cedric




and Benoit

are caring wings and coalition side ... uh ... we attack everywhere ...
Tour 1 : Pierre, pour sa troisième partie, est au coeur du dispositif français...
Allez, on se lance, Pierre!


First turn : Pierre, for his third game, is the heart of the french defense...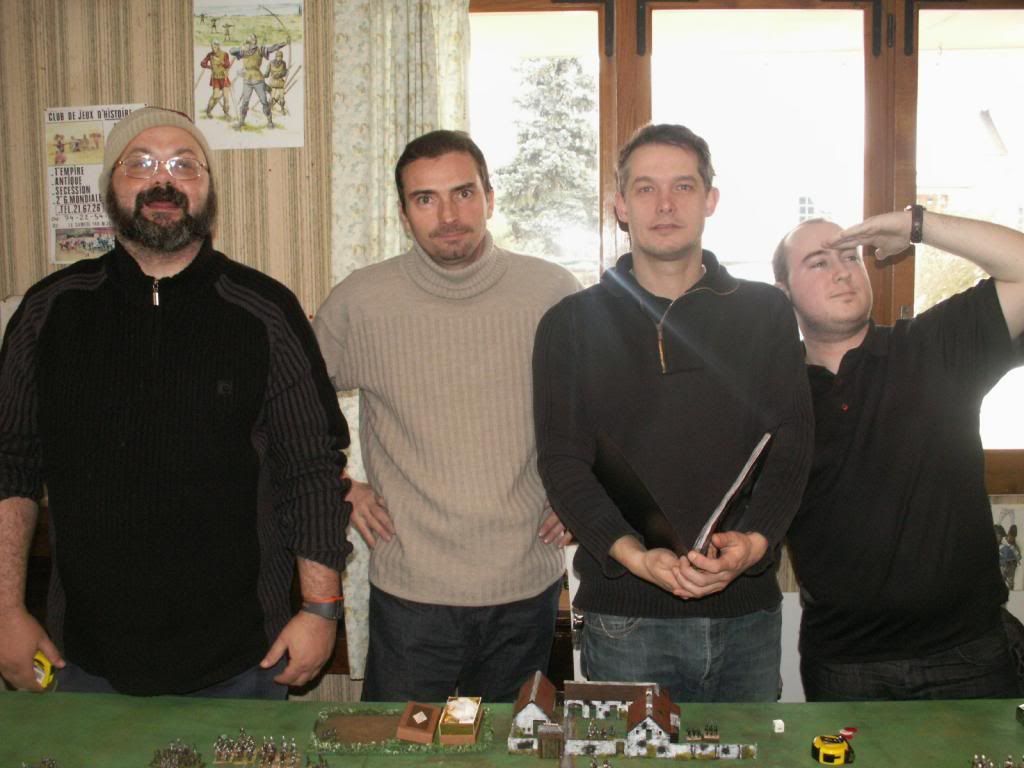 Les coalisés Serge, Philippe, Christophe et Alexandre...
Eric arrivera trop tard pour la photo!


The coalition team...Eric was too late for the photo!
Les conditions de victoire sont simples : il y a 5 maisons, un point par maison...
toutes tenues par les Français pour l'instant!
The victory conditions are simple: there are 5 houses, one point for a home ...
all held by the French for the moment!
Une bonne partie des troupes françaises sont de jeunes recrues, mal entraînées mais motivées.


Much of the French troops of young recruits, but poorly trained motivated.
Partie semi-historique : les Prussiens et Russes décident d'attaquer les faubourgs de Paris
avant le 30 mars, date historique de la bataille.
Semi-historical battle : Prussians and Russians decided to attack the suburbs of Paris
before 30 March, the historic battle date.
Alors que, de notre côté, nous avons des bataillons à faible effectif, mais de bonne qualité : ici la garde prussienne menée par Christophe.


While, on our side, we have low effective battalions, but of good quality by the Prussian Guard led by Christophe.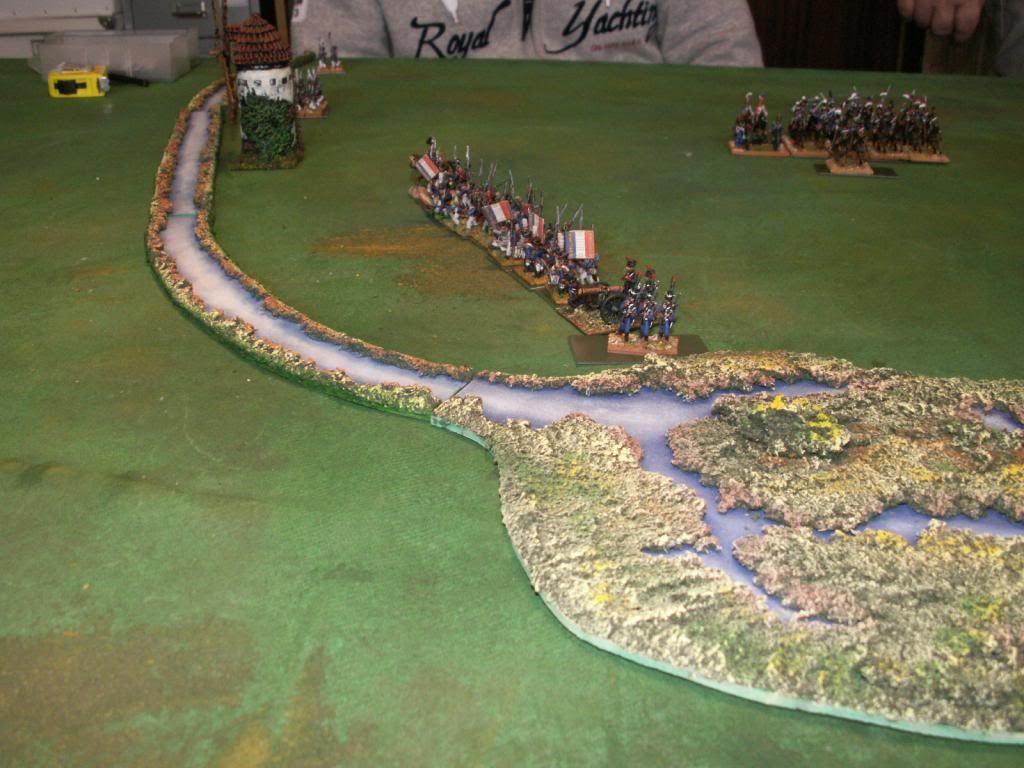 Le flanc droit français, protégé par Gael et ses bataillons de ligne.


The French right flank protected by Gael and line battalions.
La garde nationale de Pierre, derrière des barricades érigées à la hâte...et soutenues par un obusier!
Les premiers tirs sur mes Russes sont dévastateurs! Il a du pot, Pierre...


The National Guard of Pierre, behind hastily erected barricades ... and supported by a howitzer! The first fires, on my Russians, are devastating...Pierre is lucky, bad beginning for me...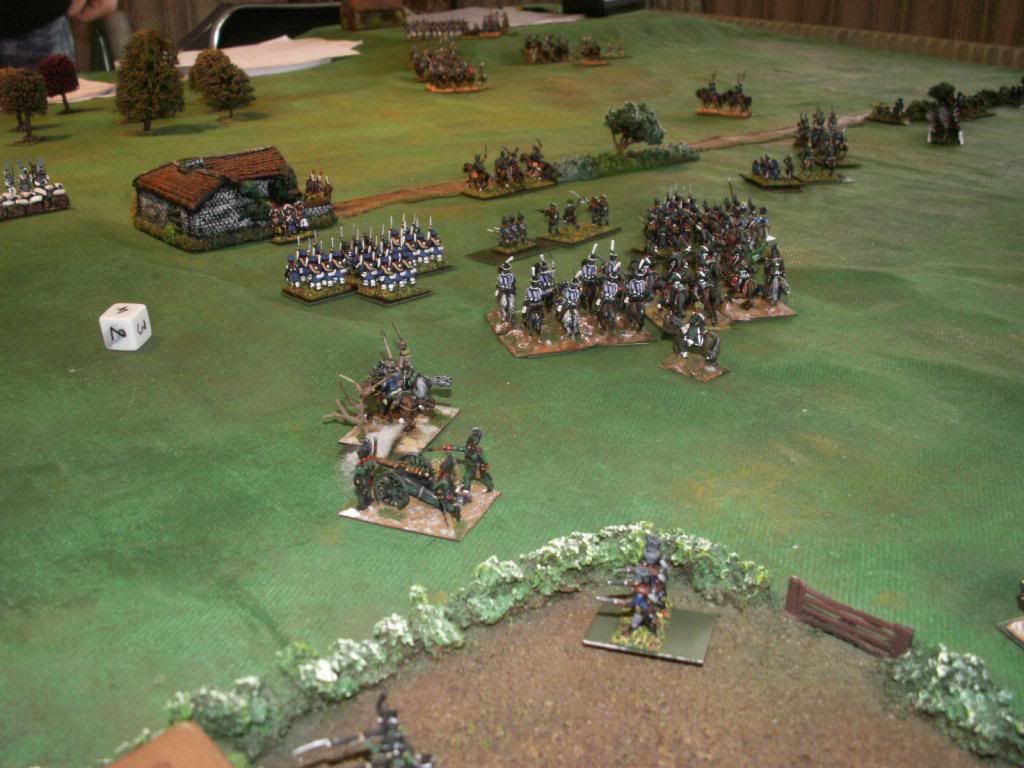 Tour 3, sur notre droite les Prussiens de Serge entament l'attaque du premier point.


Round 3 on our right the Prussians of Serge begin the attack on the first point.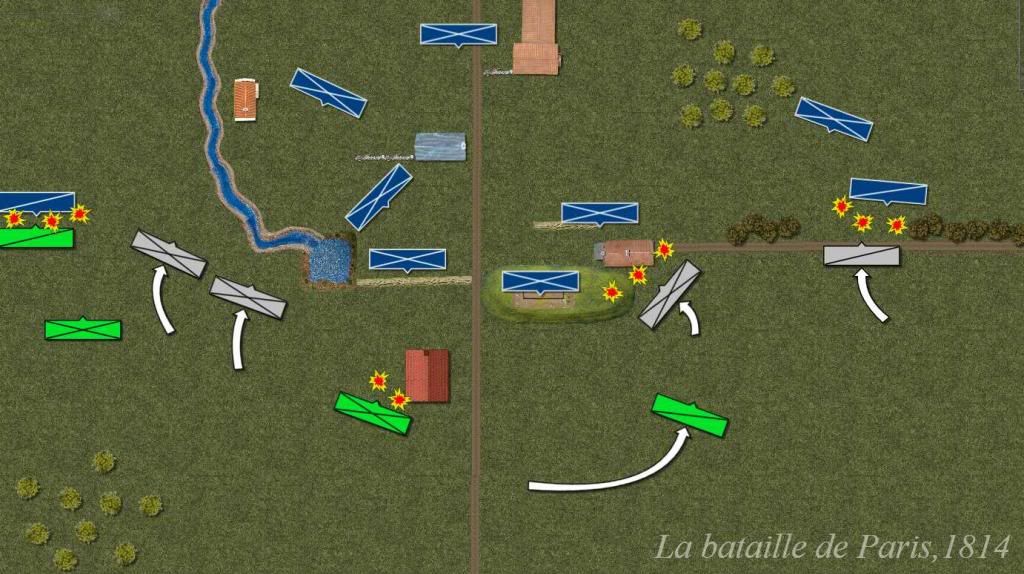 Tour 3 : combats autour de deux villages...


Third turn : fights around two villages...
Sur notre aile gauche, c'est une confrontation de cavalerie entre russes et français...Cédric le cuirassier aura-t-il raison des dragons et hussards russes d'Alexandre?


On our left wing, it is a confrontation between Russian and French cavalry...Will the cuirassiers of Cedric win against Russian hussars and dragoons of Alexander?
Troupes diverses et variées chez les Français : Pierre protège le bâtiment à l'aide de gendarmes...ils tiendront 2 tours, mais Serge finira par prendre la maison : un point de victoire pour nous au 4ème tour!


Diverse troops among the French: Pierre protects the building with gendrames... they held two rounds,




but Serge take home: a victory point for us in the 4th round!
Ma batterie à cheval se fait charger par un régiment de hussards...la mitraille est prête!

пожар!




My horse battery is charged a regiment of hussars ... the grapeshot is ready!

пожар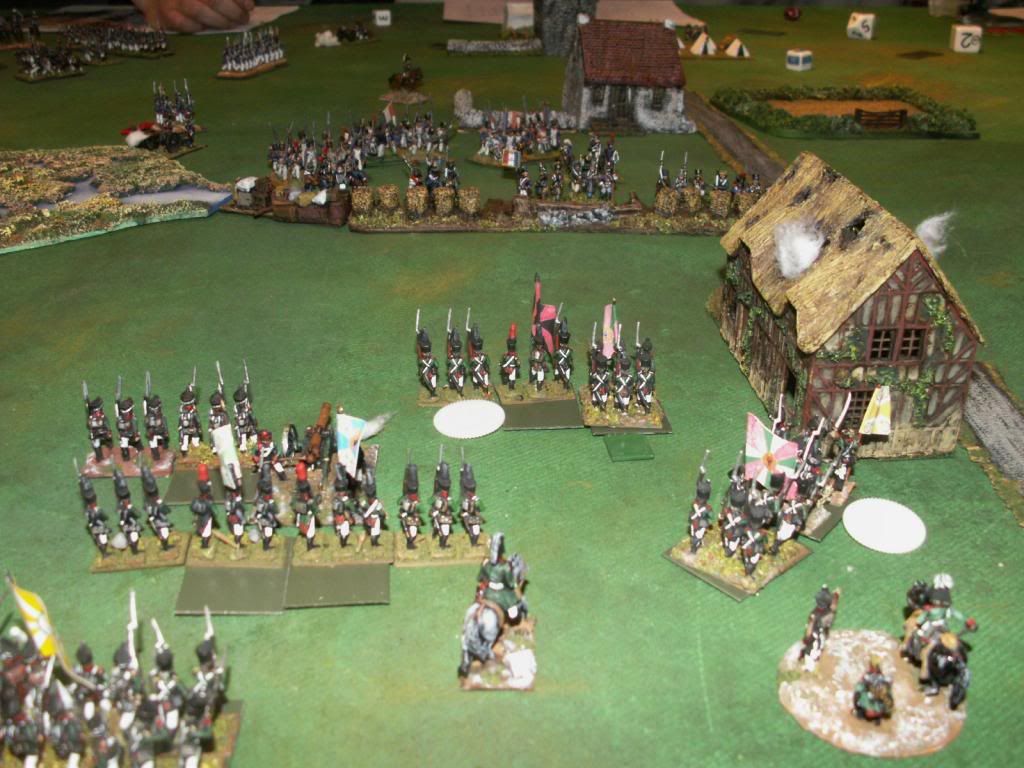 Au centre, mes Russes prennent leur point de victoire...mais les Français m'empêchent de progresser,
l'obusier est terrible, les jets de Pierre sont impressionnants!


In the center, my Russians take their victory point ... but the French prevent me from advancing,




the howitzer's terrible!






Tour 5 : les combats se généralisent, il nous faut prendre un troisième point synonyme de victoire,
et vite : la jeune garde arrive bientôt...


Tour 5: widespread fighting, we must take a third point, synonymous with victory,




and fast: the young guard is coming soon ...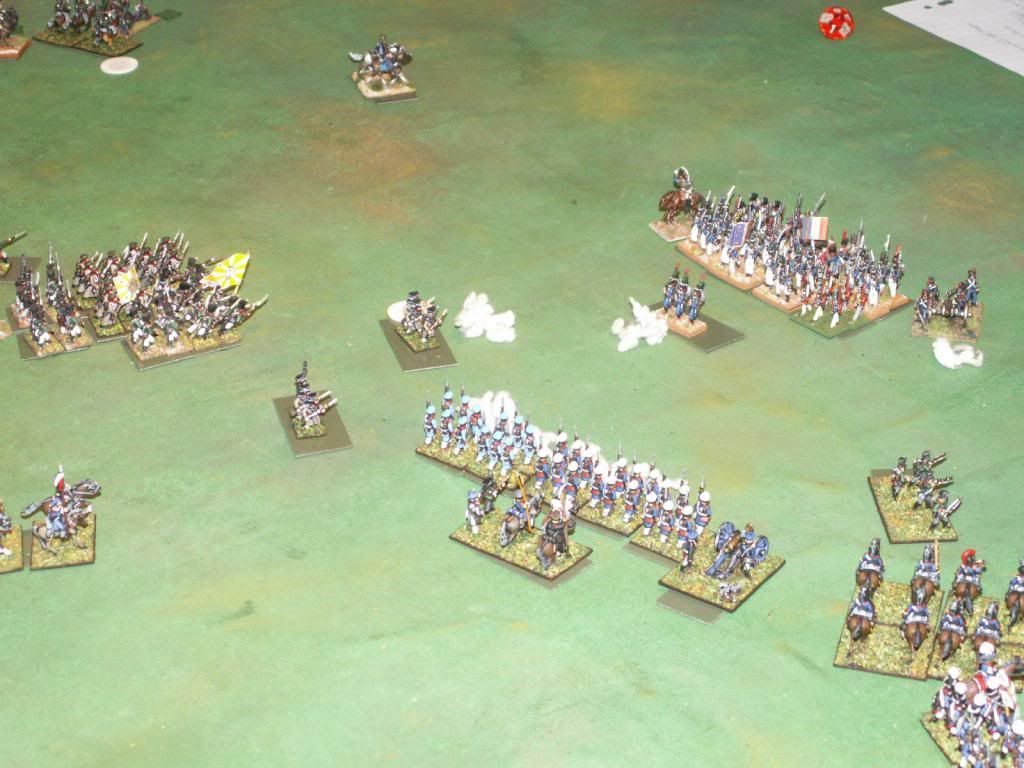 Les bataillons de Landwehr de Christophe associés aux Russes d' Alexandre progressent sur notre gauche...
belle avance, malheureusement sans point de victoire à la clé!
Landwehr battalions of Christopher associated with Alexander 's Russians progress on our left ... nice advance, unfortunately without victory point to the key!
Il est 15h, nous avons 2 points, reste 3 heures de jeu pour arracher la victoire!
3pm : 2VP, 3 hours remaining to snatch the victory!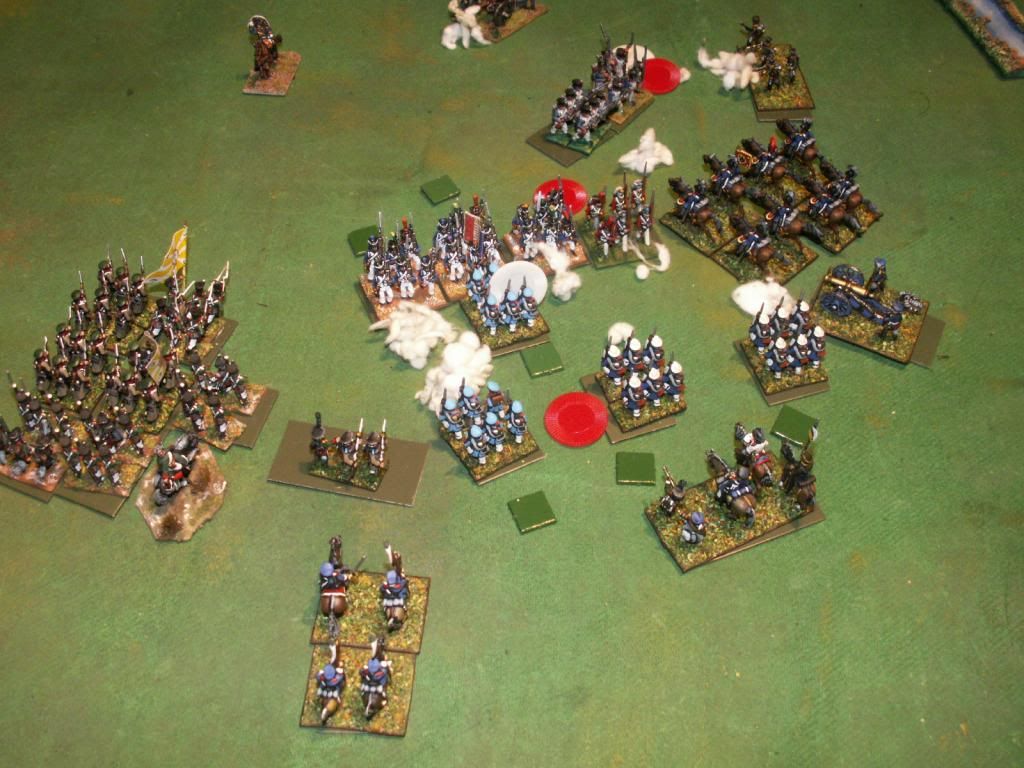 Tour 6 : les casquettes sont tombées, maltraitées par la ligne française...les bataillons russes vont les venger!


Tour 6: caps fell, mistreated by the French line ... Russian battalions will avenge them!
Derrière leurs abris, les milices françaises s'encouragent à tenir coûte que coûte! Etudiants, jeunes recrues,
civils et curés font barrage, au nom de la nation...


Behind their shelters, French militia is encouraging himself to hold!

Students, young recruits,
civilians and priests resist, on behalf of the nation ...
Nous avons toujours deux points de victoire à 15h30...mais c'est alors qu'on entend le bruit
des tambours de la jeune garde, progressant vers nos positions...


We still have two victory points at 3pm30... but then we hear the sound of the drums of the young guard,




progressing towards our positions ...





La cavalerie française de Cédric charge les Russes d'Alexandre.


Cedric French cavalry is charging Alexandre Russian troops.
Les Prussiens de Christophe et Eric sont installés, feux d'armes légères et
tirs de canons se succèdent, les Français vont-ils craquer?


The Prussians are installed, Eric and Christophe troops are firing, succession




of rifles and guns shoots,

will the French crack?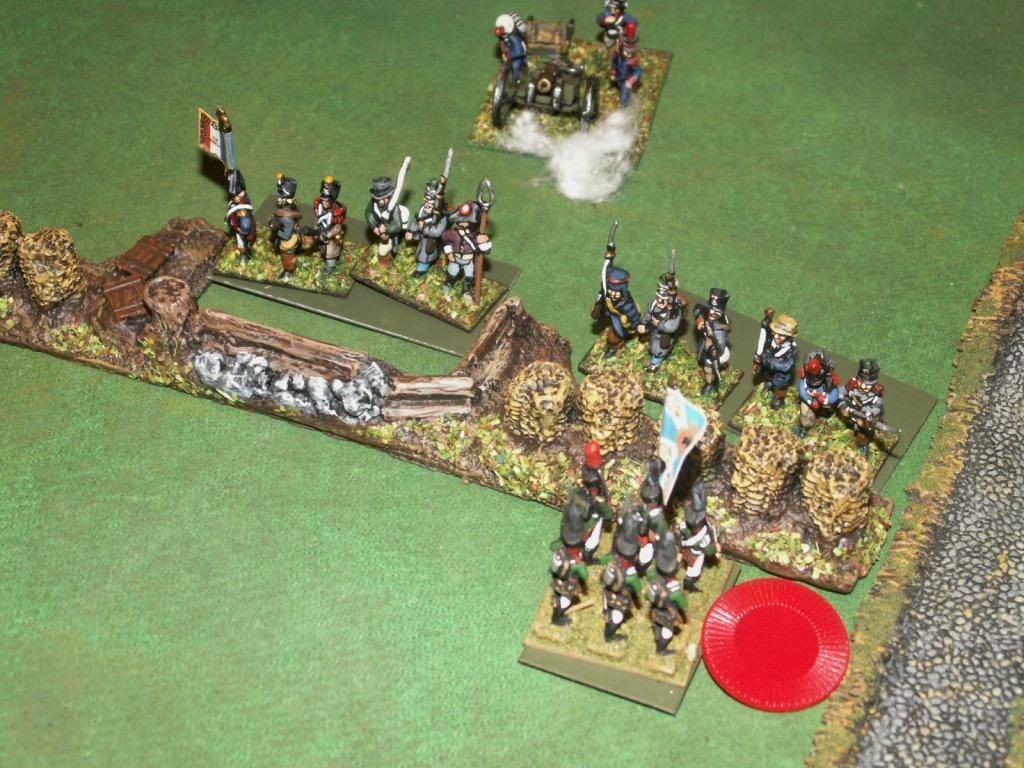 Tour 8 : Mes grenadiers russes se lancent à l'assaut des bataillons de volontaires français : là encore les dés me seront défavorables, et les barricades ne seront pas franchies aujourd'hui!


Turn 8: My Russian grenadiers launched an assault on of French volunteers

battalions

: the dices, once more today, are unfavorable, and barricades will not be taken !
C'est dans la confusion que se termine la partie sur notre aile gauche : dans le fracas de la bataille, des divisions entières de Français, mais aussi de Russes et de Prussiens, prennent le chemin de la retraite.


This is in the confusion that ends the game on our left wing in the din of battle, entire divisions of French, but also Russians and Prussians, take the road to retreat.
La jeune garde restera maîtresse du champ de bataille, après la résistance héroïque de la garde nationale...


The young guard is the master of the battlefield after the heroic resistance of the National Guard ...
Qu'à cela ne tienne! Le lendemain, une ombre se propage dans les rues tranquilles de Paris, et cette fois...


No matter...next day, a shadow is spreading a shadow spreads through the quiet streets of Paris, and, this time...
Belle résistance, et victoire, des Français qui ont défendu les faubourgs de Paris.
La situation stratégique est telle que
la capitale verra tout de même défiler les cosaques un jour...mais ceci est une autre histoire...
Great resistance and victory of the French who defended suburbs of Paris.
The strategical situation is such that the
capital will still see scrolling the Cossacks one day ... but that's another story ...