Regroupement d'un régiment autour d'un puits, nouveau décor...
Grouping of a line regiment around a well, new decor ...
Bonjour à tous,
Suite de notre armée ottomane aujourd'hui, après la première partie
Pour résumer l'épisode précedent, Kara Mustafa, chef de l'armée ottomane,
traverse l'est de l'Europe et arrive devant Vienne. Des deux côtés, on attend des renforts...
Hi everyone,
Following our Ottoman army today, after the first part
To summarize the previous one episode, Kara Mustafa, head of the Ottoman army,
crosses Eastern Europe and arrives at Vienna. On both sides reinforcements are expected ...
Tirailleurs et tireurs prennent des forces avant de rejoindre l'armée principale.
Skirmishers and shooters take forces before joining the main army.
Infanterie de ligne : une armée haute en couleur, uniformes et drapeaux.


Line infantry: an army colorful, uniforms and flags.
Les cavaliers turcs soutiennent les fantassins : une cavalerie mobile...
The Turkish cavalry supports the infantry : a mobile cavalry...
...et une autre moins rapide : la cavalerie lourde turque.
...and another one, slower : Turkish heavy cavalry.
Unité de tireurs.


Shooting unit.
En route pour l'Autriche!
Off to Austria!
L'armée autrichienne, ici les cuirassiers Alt Hannover, a fort à faire en rase campagne
pour enrayer l'avance de l'armée ottomane.


The Austrian army, here cuirassiers Alt Hannover, has much to do in the open field




to stop the advance of the Ottoman army.
Les cavaliers autrichiens seront accueillis par les janissaires comme il se doit.


The austrian cavalry will be welcomed by the janissaries.
Et les villages sur la route de Vienne sont vite balayés.


And villages on the route Vienna quickly scanned.
Les renforts progressent pendant quelques semaines.
Reinforcements progress for a few weeks.
Pendant que les renforts se rapprochent, les unités assiégeantes construisent des tranchées pour atteindre Vienne.


While reinforcements are advancing , besieging units are building trenches to reach Vienna.
Tous les chemins mènent à Vienne : les renforts rejoignent l'armée arrivée mi-juillet.
All roads lead to Vienna: the army reinforcements arrived in mid-July.
En Septembre, alors que Vienne est prête à tomber, l'armée coalisée de secours arrive :
Autrichiens, Polonais, Lithuaniens et Vénétiens sont maintenant plus de 60 000,
et les Turcs décident de se retirer...
In September, while Vienna is ready to fall, the allied army emergency comes :
Austrians, Poles, Lithuanians and Venetians
are now more than 60,000...
and the Turks
decide to withdraw ...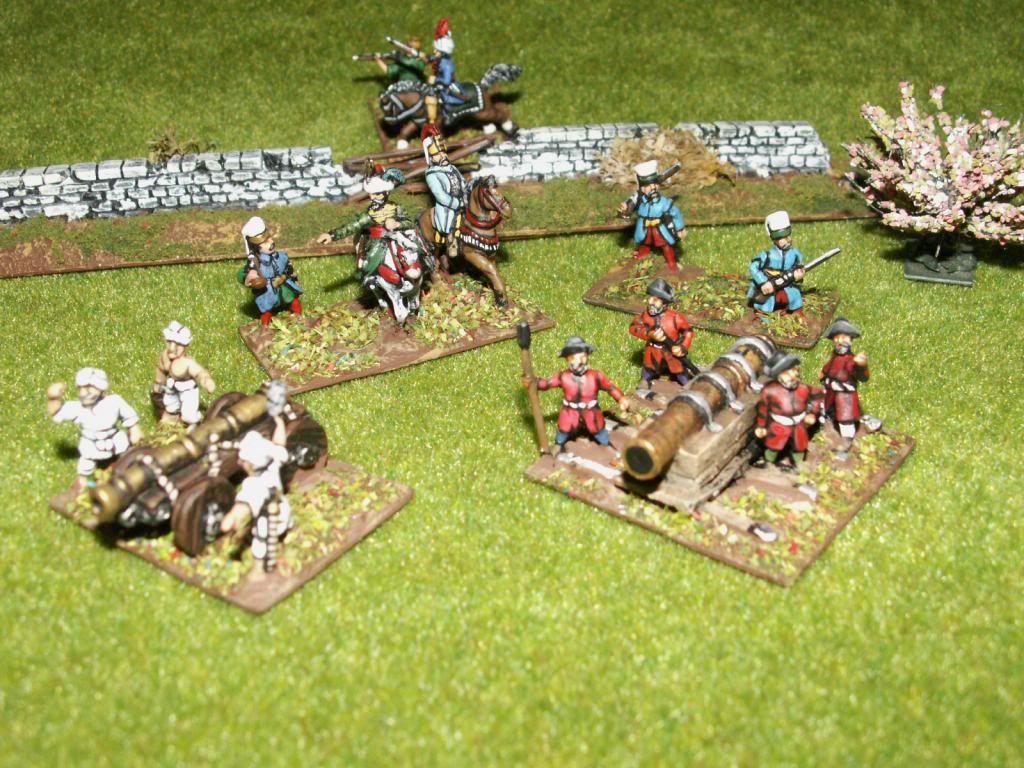 Attelez l'artillerie, on repart!


Harness the artillery, we go!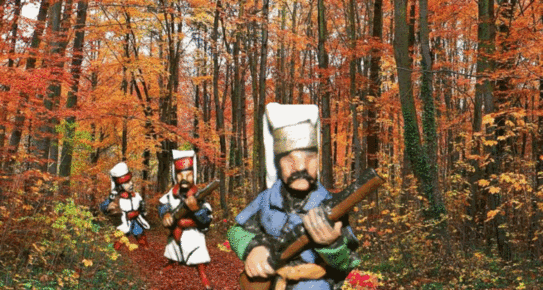 A travers bois, durant l'automne, l'armée, prudente, se fraye un chemin jusqu'à l'Empire Ottoman...
qui lui aussi entrevoie son automne.


Through woods during autumn, the army, cautious, makes his way up the Ottoman Empire ...




who is also going to its fall.
C'est le début de 16 ans de guerre entre l'Autriche et la Turquie...mais ceci est une autre histoire...
This is the beginning of 16 years of war between Austria and Turkey ... but this is another story ...
Christophe aux pinceaux, Phil aux textes et photos.
Christophe is the painter, Phil the writer and photograph.
Bienvenue à Paul