Haut les couleurs!


High the colors!
Bonjour à tous,
C'est avec la devise des Scots Guards,
"Personne ne me défie impunément", que je vous présente
nos troupes britanniques durant la guerre d'indépendance américaine...
La peinture est de Chistophe.
Hi everybody,
This is with the motto of the Scots Guards,
"Nobody defies me with impunity", that I present
our British troops during the American War of Independence ...
Painting is Christopher.
L'infanterie, colonne vertébrale de l'armée. Elle se compose de régiments dits royaux, irlandais, anglais et écossais. Le feu des lignes britanniques est redoutable, il repose sur le rustique fusil "brown bess"qui dominera longtemps les champs de bataille. Ces bataillons se dédoublent en "wings" (demi-bataillon), pour s'adapter au difficile terrain américain.
The infantry is the backbone of the army. It consists of regiments called royal, Irish, English and Scottish. English fire is terrible, it relies on the rustic rifle "brown bess" who dominate the battlefield for long. These battalions are splitted into "wings" (half-battalion) to adapt the war to the difficult American terrain.
"Une guerre de barbares dans un pays barbare" cette citation de James Murray
reflète le mépris aristocratique avec lequel les anglais abordent ce conflit.
En effet les "royal forces" sont composées de troupes aguerries,
rompues au "drill" européen, acquis durant la guerre de 7 ans.
"A war of barbarians in a barbarous country" this quote from James Murray
reflects the aristocratic contempt with which the English approach this conflict.
Indeed, the "royal forces," are composed of veteran troops,
very experienced during the 7YW.
L'infanterie légère (les "Leslie's light"), ce sont des unités qui expérimentent des formations moins profondes, sur 2 rangs seulement, c'est "l'extended line"qui offre une moindre prise au tir des riflemen adverses et une maniabilité accrue, ce sont les ancêtres des 60th et 95th rifle du premier empire ...
The light infantry (the "Leslie's light"), they are experimenting with units in skirmish formations, 2 rows only,
this is the "extended line" that offers less danger with opposing riflemen firing and increased handling ,
they are the ancestors of the 60th and 95th rifle the first empire ...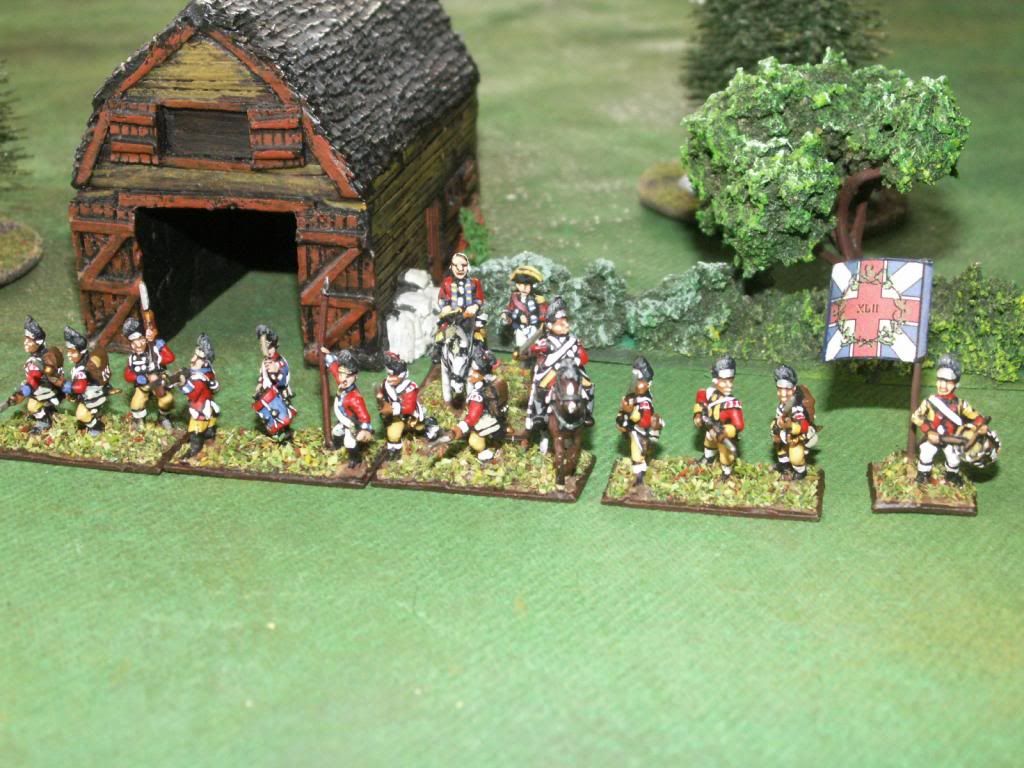 Les grenadiers, ils sont l'élite de l'armée. Ils sont détachés de leur régiment et regroupés en bataillons dans la réserve, souvent décisive (Monmouth court house).
The grenadiers, the elite of the army. They are detached from their regiments, grouped into battalions in the reserve, often decisive (Monmouth court house).
Comme l'illustre leur devise: "Nec aspera terrent ", ils ne craignent pas les durs combats.
As shown in their motto: "Nec aspera terrent", they are not afraid of hard fighting.
Cette infanterie expérimentée se double d'unités d'élite, comme les fusiliers
(originellement rattachés à la protection de l'artillerie) ...
This experienced infantry has got elite units such as fusiliers
(originally attached to the protection of artillery) ...
...et les redoutables Ecossais qui abandonneront bien vite leurs kilts pour des "leggins"
plus adaptés à la "petite guerre" de coureurs des bois.
...and the dreaded Scotsman who quickly abandon their kilts for "leggings"
more suited to the "little war" of the woodsmen.
Cependant cette armée pétrie de traditions va faire preuve
d'une grande capacité d'adaptation et même d'innovation...
However this army steeped in traditions will demonstrate
a great capacity for adaptation and even innovation ...
Après la tradition, l' adaptation avec les "light bob": l'infanterie légère britannique qui, forte de son expérience des guerres franco indiennes, combat en tirailleurs, souvent armée de tomahawks .
After the tradition, the adaptation with the "light bob": British light infantry, with its experience of Franco Indian war fights in skirmich order, often armed with tomahawks.
L'artillerie, pour combattre dans ces contrées boisées, est devenue plus légère, ( calibres et attelages )
Ce sont des "grass shopper" (coupeur de gazon !)
Artillery, to fight in these wooded regions, became lighter (gauges and couplings)
They are called "grass shopper".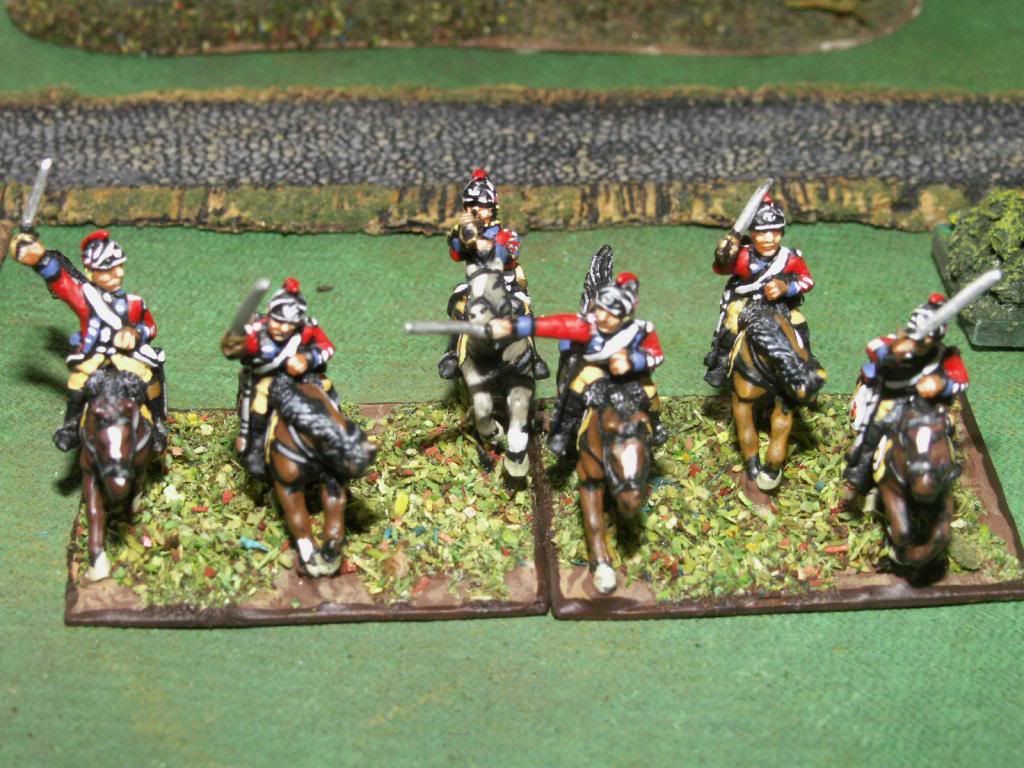 De sinistres têtes de mort sur leurs casques, voici les 16èmes dragons légers...


Sinister skulls on their helmets, the 16th Light Dragoons here ...
Les 17èmes dragons légers, eux aussi avec les têtes de mort...

Cette cavalerie d'élite remplit toutes les missions dévolues à cette arme mais elle opère aussi en légion (selon les préceptes de Maurice de Saxe)




associant cavalerie et infanterie légère.




The 17th Light Dragoons also with skulls ... This elite cavalry fulfills all the tasks assigned to this weapon but it also operates in legion (according to the precepts of Maurice de Saxe)


combining cavalry and light infantry.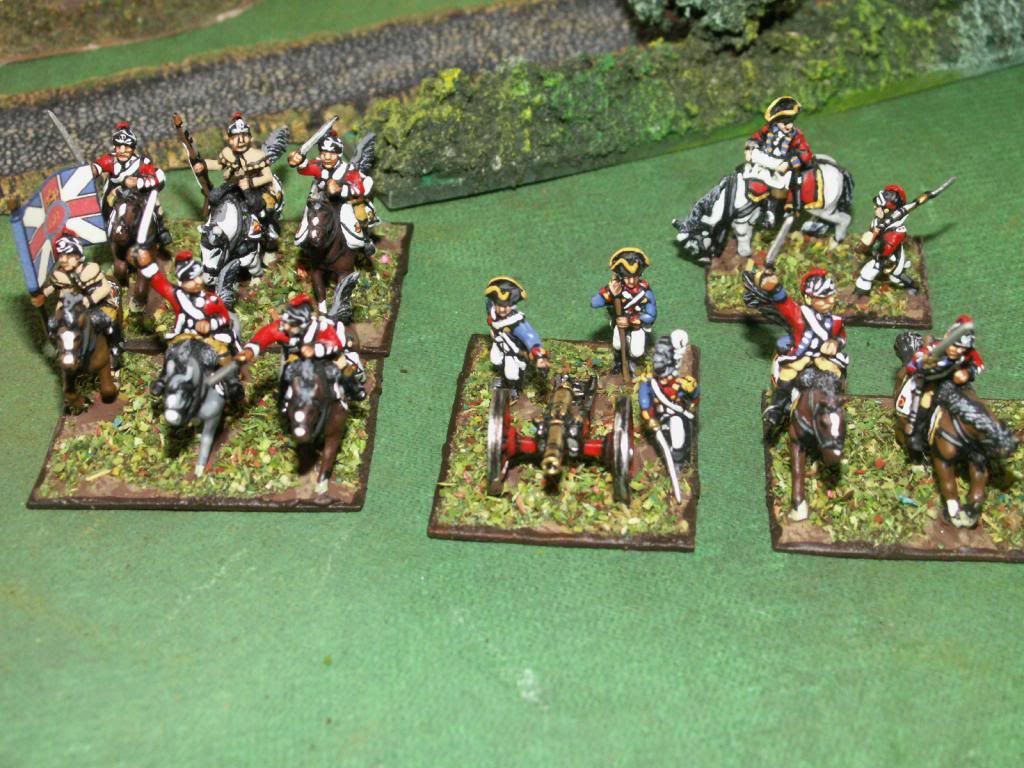 Cavalerie et artillerie légère, une autre option...


Cavalry and light artillery, another option...
Les Marines en "Landing Party".
Ce conflit est aussi un régal pour l'uniformologie, les "royal forces" expérimentent de nouvelles coiffures, les "crested helmet" ( casques à crêtes) pendant la campagne de Saratoga. Les uniformes sont raccourcis et les vestes de chasse indiennes utilisées. Certains régiments, comme le 15 th foot, découpent leurs tricornes
pour les transformer en de futuristes casquettes !
This conflict is also a feast for the uniformology the "royal forces" experimenting with new hairstyles, "crested helmet" during the Saratoga campaign. Uniforms are shortcuts and Indian hunting jackets used.
Some regiments, such as the 15 th foot, cut their tricorn to transform into futuristic hats!
A cette diversité uniformologique et tactique de l'armée anglaise se rajoute celle de ses supplétifs,
les alliés indiens et loyalistes.
We can add to this uniformological and tactical diversity some auxiliaries,
Indian allies and loyalists.
Pour le Roi!


For the King!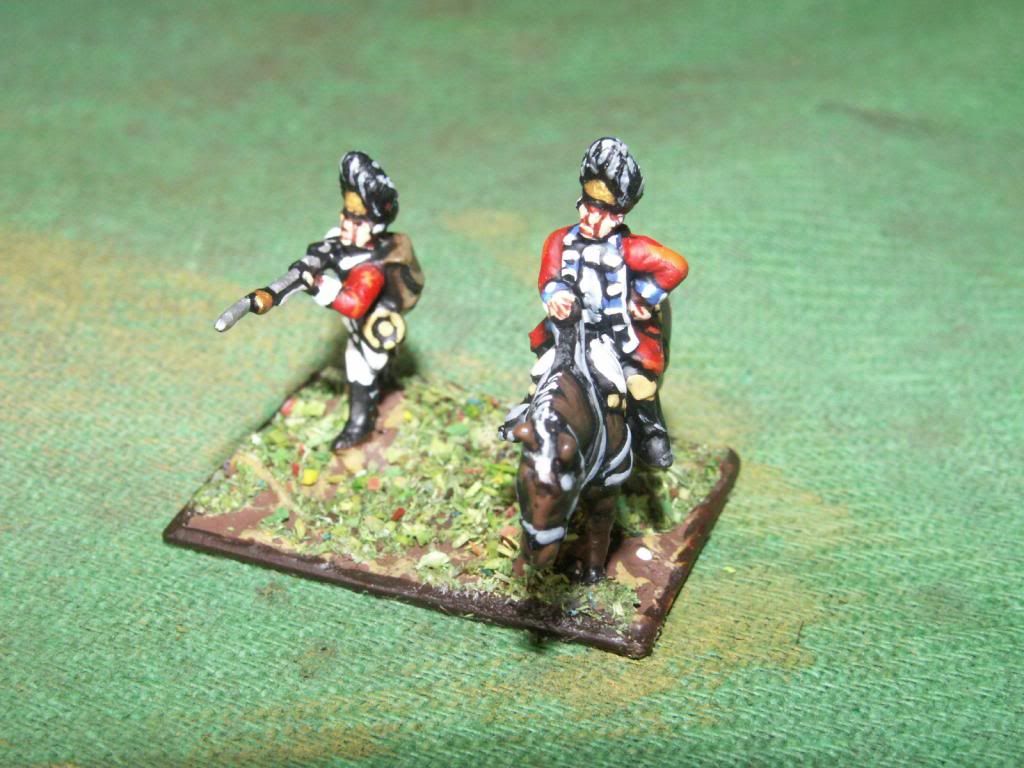 On termine par un commandement chez nos célèbres grenadiers.


We end with a command stand from our famous grenadiers.
Pour conclure, pour les plus anciens d'entre nous, une "madeleine de Proust"...
Qui ne se souvient pas de ces figurines en plastiques,
de cette célèbre marque qui est à l'origine de bien des vocations de pousseurs de figurines?
D'accord, tout cela ne nous rajeunit pas...mais ceci est une autre histoire...


To conclude, for the oldest among us, who do not remember these plastic figurines,




this famous brand that is the origin of many vocations among figurines pushers ?




Okay, all this does not make us any younger ... but this is another story ..

.
Les figurines utilisées sont principalement des essex avec quelques minifigs (du grand 15 mm)
et des polly oliver...citons encore la gamme plus complète de Peter Pig (du 'petit' 15mm)
avec une gravure très agréable, très 'fatboys'...
The figures used are mainly essex with some minifigs (large 15 mm) and
polly oliver ... let's mention the more complete range of Peter Pig ('small' 15mm)
with a very nice engraving , very 'Fatboys' ...
Merci à tous,

hope you enjoy!
Bienvenue à nos nouveaux membres,
welcome to our new members
...