Jéna vient de s'achever...l'état-major prussien organise la retraite.
Jena has just ended ... the Prussian General Staff organized the retreat.
Bonjour à tous! La partie du week-end dernier..."le lendemain de Jena",
les Prussiens et les Saxons sont poursuivis, et doivent livrer bataille,
les Français attaquant l'arrière-garde...
Hello everyone! Game of the weekend ... "the day after Jena",
Prussians and Saxons are fleeing Jena but and must fight,
the French are attacking their rearguard ...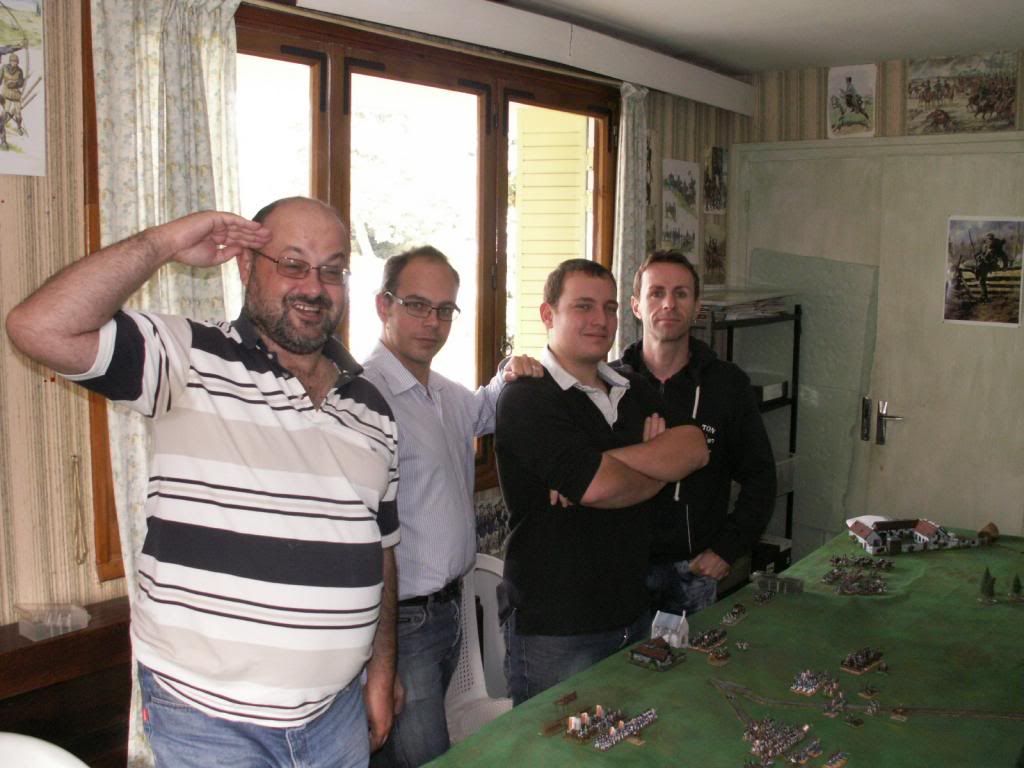 Les Français Serge, Cédric, Gael et Benoit.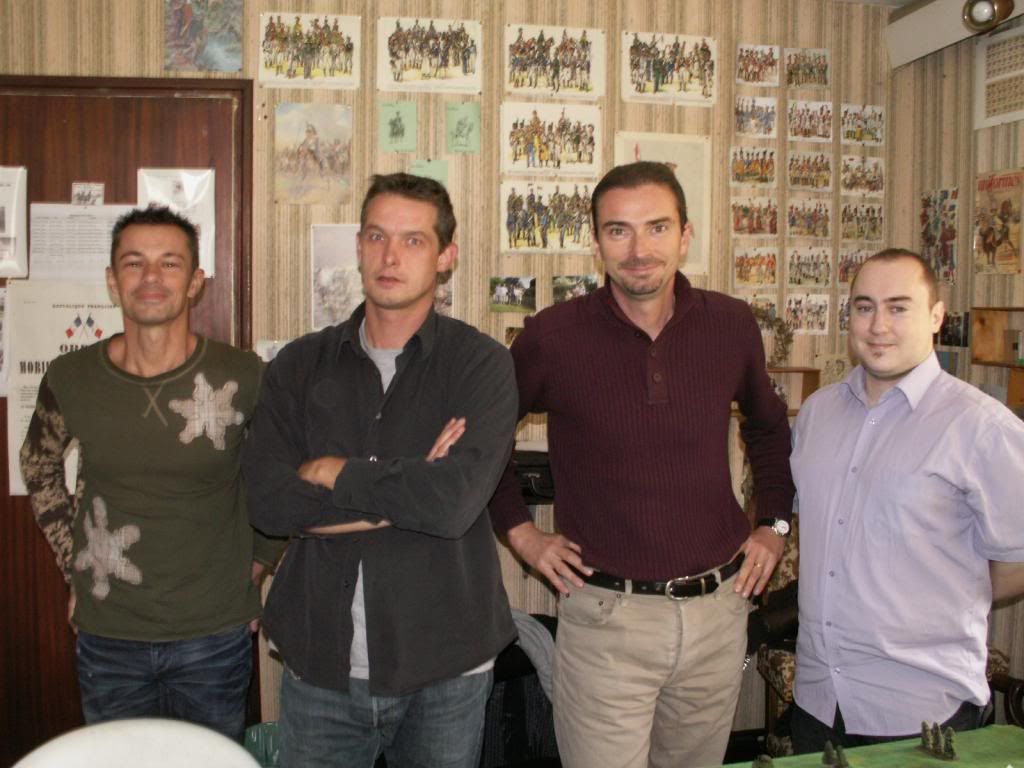 Les Saxo-Prussiens Ronnie, Christophe, Philippe et Alexandre
Situation initiale : les points de victoire sont les ponts, et les villages tenus par les coalisés.


Initial situation: the victory points are the bridges and villages held by the coalition.
Le centre de la bataille, tour 1...les premiers tirs d'artillerie, et la cavalerie coalisée déplacée à l'avant.


The center of the battle round 1 ... the first artillery fires, and cavalry coalition moved forward.
L'aile gauche coalisée...Alexandre et moi utilisons notre artillerie lourde : quelques pertes abaissent le moral des Français.


The left wing coalition ... Alexandre and I use our heavy artillery. Some losses, and the french moral is not so high.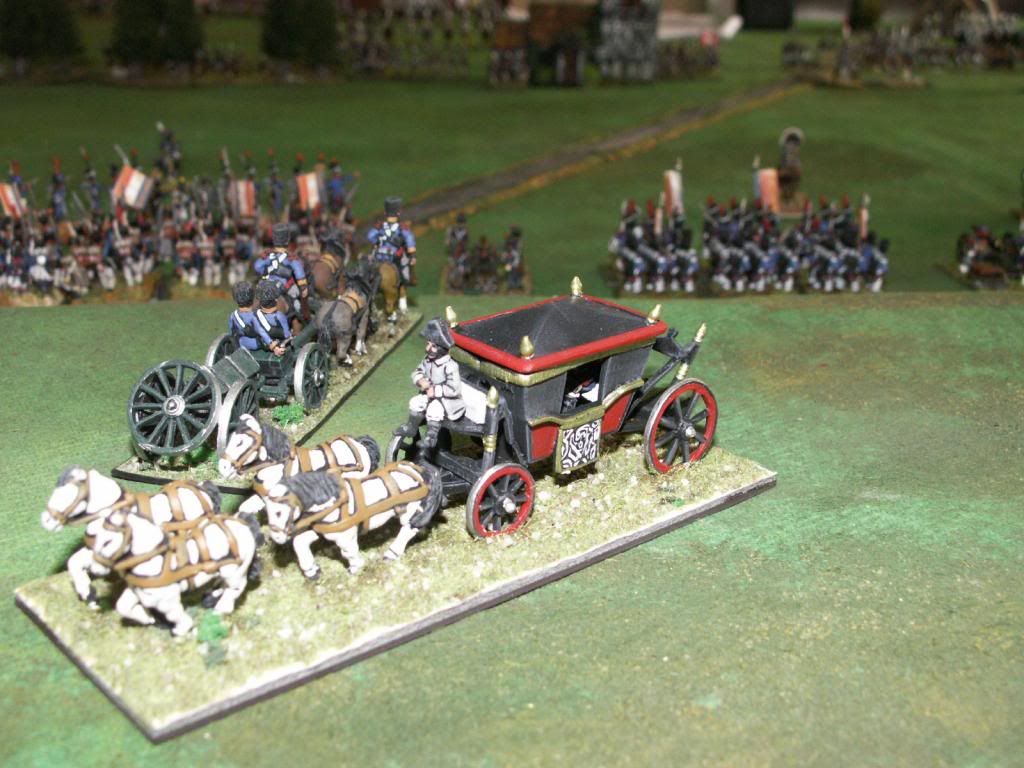 L'Empereur est arrivé dans la soirée, il supervise les opérations. Le plan français est risqué : la Garde doit contenir le centre alors que l'attaque principale se situe sur notre aile droite.


The Emperor arrived in the evening, he oversees operations. The French plan is risky: Guard must contain the center while the main attack is on our right wing.
Le plan d'attaque des Français : attaque sur notre flanc droit...les coalisés appuient leur défense sur la rivière...en laissant les ponts à l'adversaire!


The french plan : attack our right flank ... the coalition forces base their defense on the river...and let the bridges to the ennemie!
Les armes légères entrent en action : les Français arrivent vite, trop vite, à portée de fusils...


Light weapons into action: the French arrived quickly, too quickly, within reach of guns ...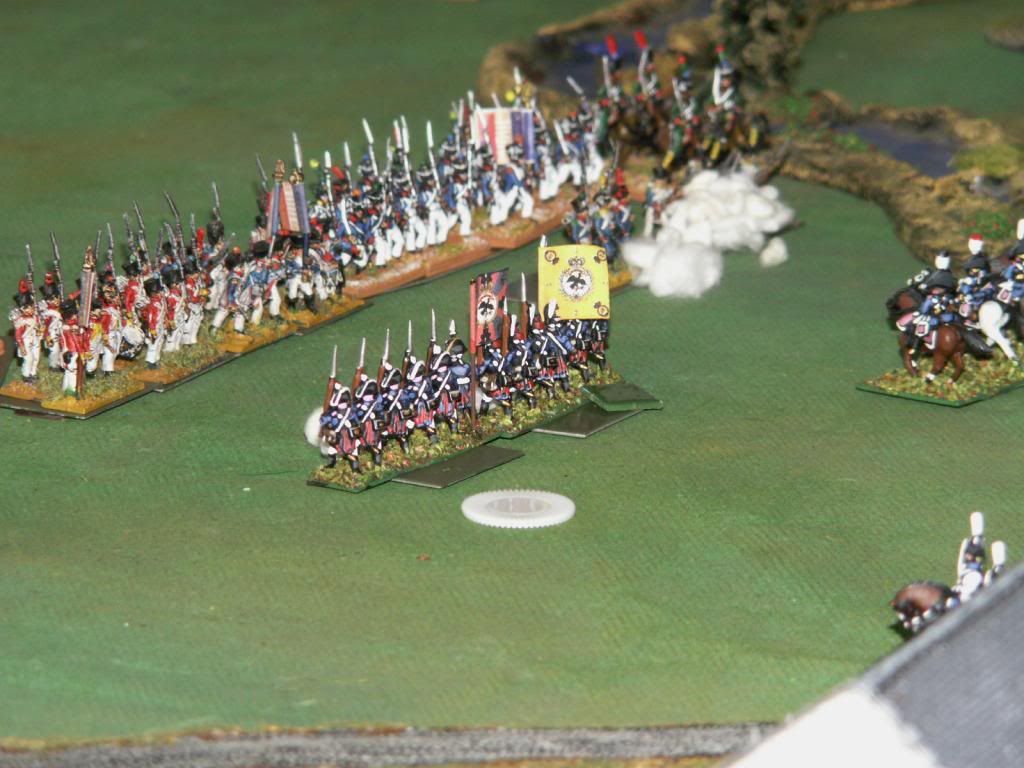 Notre aile droite : Christophe contient tant bien que mal les assauts des franco-suisses de Gael : il est à un contre trois!


Our right wing : Christophe is trying to contain the Franco-Swiss onslaught of Gael: he is one against three!
Depuis ma colline, je donne les ordres, simples, à l'aile gauche : tenir.


From my hill, I give orders, simple : the left wing must hold.
Tour 4 : c'est au centre que les combats font rage...le choc de cavalerie est terrible, et la cavalerie coalisée a fort à faire!


Round 4: This is the center that fighting rages ... the terrible shock of cavalry, and cavalry coalition has much to do!
Tour 4 : progression française au centre et à gauche.


Tour 4: French progression on the center and on the left.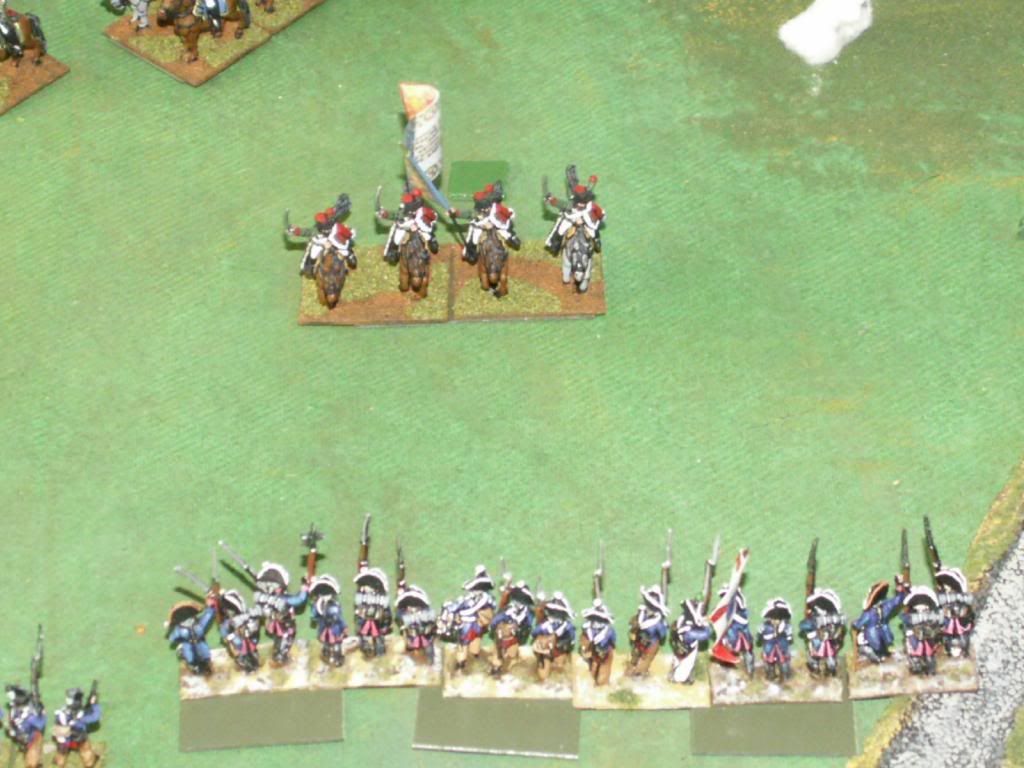 La cavalerie de la Garde française joue un rôle étonnant de bouclier face à nos lignes prussiennes...ici, les chasseurs à cheval qui se font maltraiter!


The cavalry of the French Guard plays a surprising role of a shield in front of our Prussian lines ... here chasseurs à cheval who are abused!
Tour 5 : c'est décidé, notre seule chance est de s'en prendre à la Garde française, ils sont trop nombreux sinon..allez, du courage et tous sur eux!
Round 5: It's decided, our only chance is to attack the French Guard, there are too many otherwise .. let's go, courage and all on them!
Tour 6 : les cuirassiers d'Alexandre chargent les bataillons de grenadiers de la Garde! Quelle bravoure!


Tour 6: Alexander cuirassiers charge battalions of grenadiers of the Guard! What a bravery!
Il est 15h, le doute s'installe chez les Français : la Garde vacille au centre, encore trois pertes et c'est la retraite...L'Empereur aurait-il eu trop confiance en ses protégés?


It is 3pm, the doubt settles in French team : Guard wobbles in the center, three more losses and it is retired ... The Emperor would he have too much confidence in his Guard?
Les cavaliers coalisés font des miracles sur la droite : Ronnie, à un contre trois, tient le terrain! Ce ne sont que hurlements de chevaux, coups de canons et cris de "vive l'Empereur" tout autour...


The coalised cavalry is great on the right: Ronnie, one against three, takes the field! We can hear horses screaming , cannon and shouts of "Vive l'Empereur" all around ...
Les grenadiers à cheval de la Garde chargent...et se retrouvent cloués par le feu prussien! De très bons jets aux dés pour nous! Les Grenadiers à cheval devront partir...plus que deux pertes et la Garde française sera en retraite!


The horse grenadiers of the Guard are charging, and find themselves nailed by the Prussian fire! Very good throwing dice for us! Horse Grenadiers will leave... more than two losses and the French Guard will retire!
Deuxième charge d'Alexandre : cette fois ce sont deux cuirassiers qui chargent! L'un d'eux sera détruit, l'autre emportera le bataillon de grenadiers...encore une perte dans la Garde et tout bascule.
Second charge of Alexander, this time with two prussian cuirassiers ! One of them will flee, the other will destroy the battalion of grenadiers ... another loss in the Guard and everything will change.
15h30 : sur notre aile gauche, Serge reçoit enfin l'ordre d'attaquer...les Bavarois avancent, confiants...


15h30: on our left wing, Serge finally receives the order to attack ... Bavarians are progressing, confident ...
Le commandement prussien envisage sérieusement une nouvelle retraite...il est 15h30, encore une heure et demie à tenir. Les ponts sont français, et le village central est tombé, tenu par la garde...
Prussian command is seriously considering a new retirement ... it's 15:30, an hour and a half to hold. Bridges are French, and the central village fell, held by the guard ...
Les troupes de Serge partent à l'assaut de ma colline sous un déluge de feu!


Serge's troops are attacking my hill under a barrage of fire!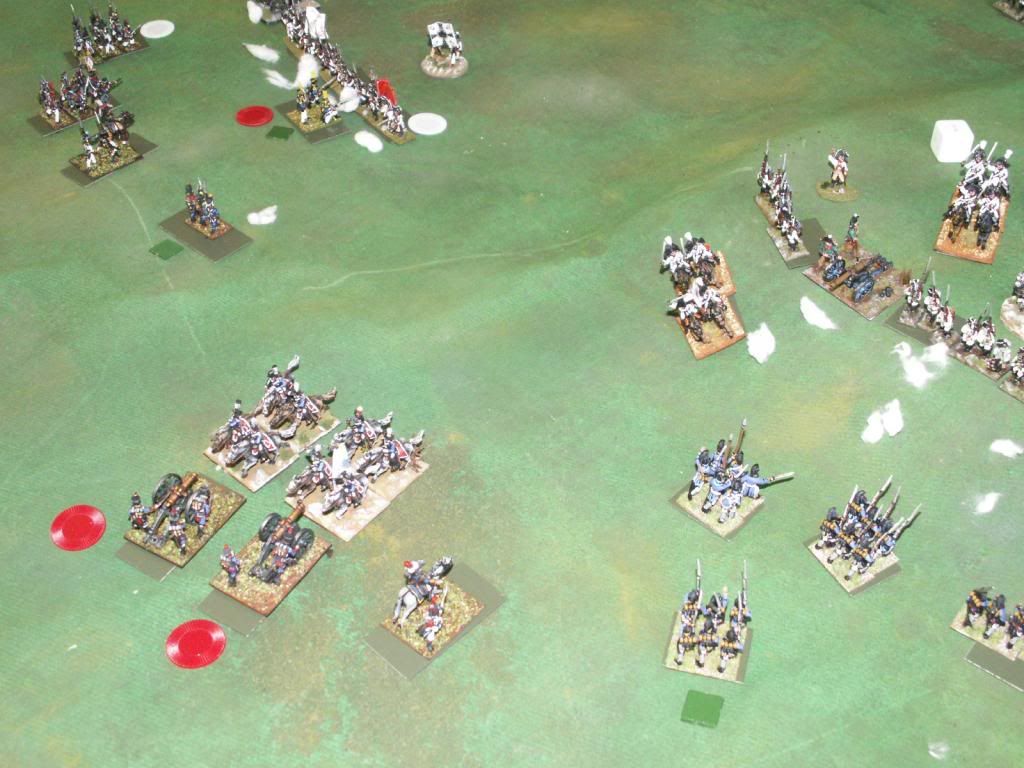 ...et se retrouvent face à une contre-attaque fulgurante : nos cavaliers saxons et prussiens emportent deux batteries!
On aura sauvé l'honneur!



... and come face a meteoric counter-attack : our Saxon and Prussian cavalry outweigh two batteries!




Our honor is safe!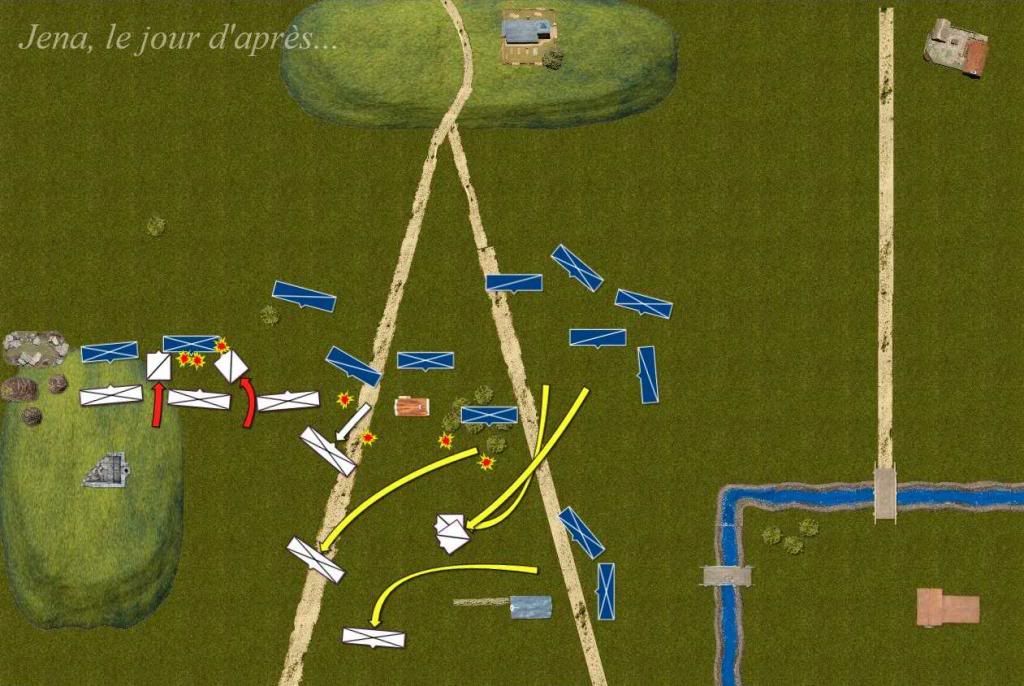 Tour 8 : nous n'avons plus d'aile droite, le centre plie...sur la gauche, par contre, les Français sont repoussés.


Round 8: we have no more right wing, the center is retreating... on the left, the French are repelled.
Dernier tour : malgré le courage de nos troupes, les Français affluent de toutes parts et on doit concéder la défaite, 3 points de victoire sur 5 aux mains des Français, et des troupes coalisées épuisées...


Last round: despite the courage of our troops, the French flock from all sides and we must concede defeat, victory points 3 of 5 in the hands of the French and allied troops exhausted ...
Sous une pluie battante, les officiers prussiens décident de se replier...espérons que la cavalerie française soit trop fatiguée pour nous poursuivre sur un terrain boueux...mais ceci est une autre histoire!


Under pouring rain, the Prussian officers decided to withdraw ... hope the French cavalry is too tired to pursue us


on a muddy field

... but that's another story!