L'artillerie prussienne aux alentours de Bazeilles.


The Prussian artillery around Bazeilles.
Bonjour à tous,
Je vous propose aujourd'hui un compte-rendu de la bataille du week-end...
un what if..."et si la garde française, deux brigades, avait été présente à Sedan, que se serait-il passé?"
I propose today a report of the battle of the weekend ...
"what if the French guard, two brigades, had been present at Sedan?"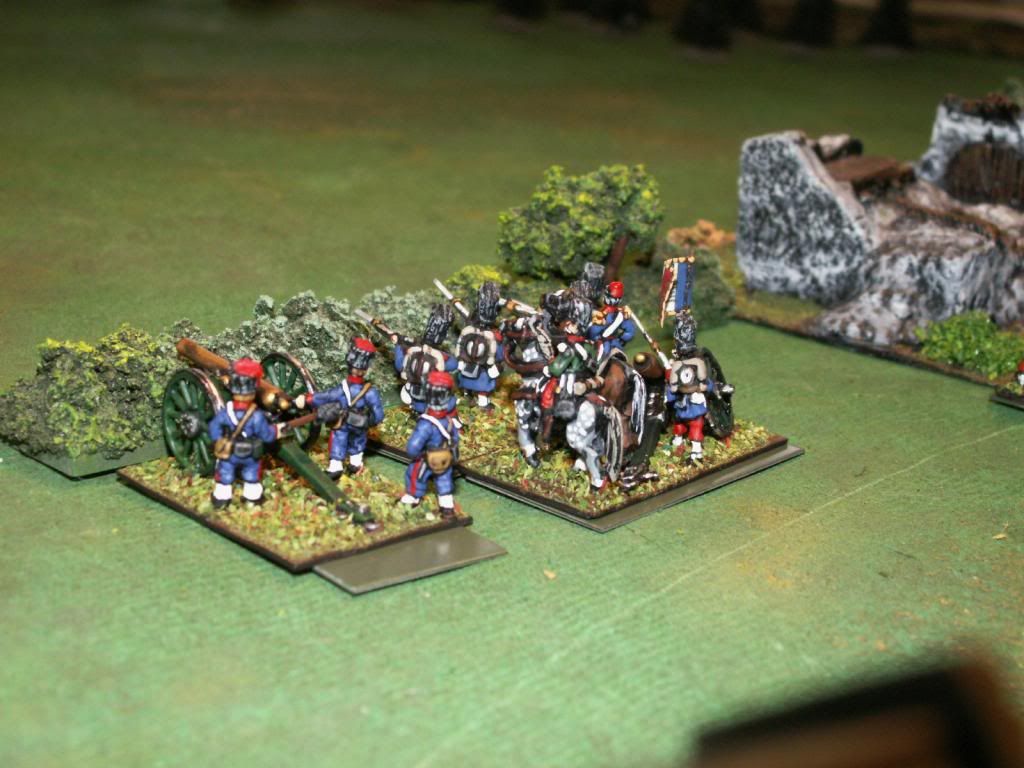 L'artillerie française de la garde.


The French artillery of the guard.
Sedan, 2 septembre 1870
Les troupes françaises ont passé une bien mauvaise journée le 1er septembre.
Les combats ont été extrêmement violents, les pertes ont été lourdes de part et d'autre.
Mais les Français sont finalement encerclés. L'Etat-Major français hésite, beaucoup parlent de reddition.
Mais le général de Wimpffen, nouveau commandant en chef, n'est pas homme à se rendre.
Au matin du 2, tandis que l'empereur va hisser le drapeau blanc, réunissant des troupes reposées, le général de Wimpffen rejoint les premières lignes sur la route de Bazeilles. Il est bien décidé à percer le front et l'encerclement, coûte que coûte.
Dans les brumes de l'aube, les prussiens, convaincus de leur victoire acquise la veille, sont surpris de voir monter contre leurs lignes, une armée française, en ordre, bien décidée à en découdre.
Des deux côtés les renforts vont affluer.
Le village de Bazeilles va sans doute être encore le théâtre de furieux combats…
French troops had a very bad day on September 1st.
The fights were extremely violent, losses were heavy on both sides.
But the French are finally surrounded. The French General Staff hesitates, many speak of surrender.
But the General Wimpfen, new commander in chief, is not a man to surrender.
On the morning of 2, while the Emperor will raise the white flag, bringing fresh troops, General Wimpfen joined the front lines on the road Bazeilles. He is determined to break the front and encirclement costs.
In the mists of dawn, the Prussian convinced of their victory gained yesterday, are surprised to see their lines up against a French army, in order, determined to fight.
Both sides reinforcements will arrive.
The village of Bazeilles will probably still be the theater of fierce fighting ...
Serge, Dimitri et Cédric, Prussiens.
Objectifs : les Français doivent prendre Bazeilles ou La Moncelle pour le match nul, ou faire parvenir une brigade de l'autre côté du chemin de fer pour une victoire.
Objectives: the French must take Bazeilles or La Moncelle to a draw or send a brigade to the other side of the railway for a victory.
Ronnie, Phil et Christophe, Français.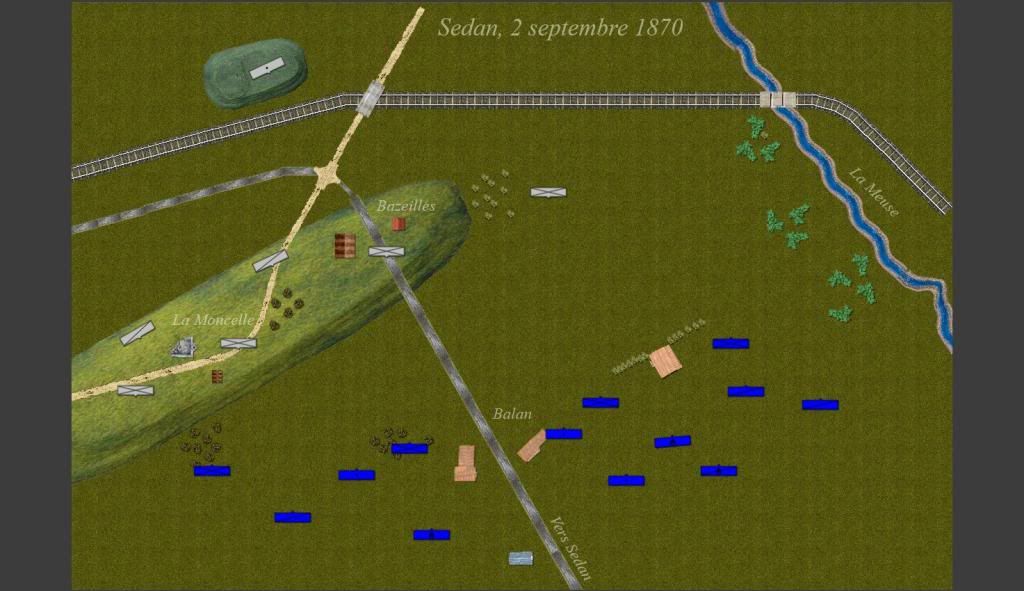 Le terrain, déploiement de départ...on choisit une attaque sur la droite, le long de la Meuse...aucun Prussien...la victoire majeure est à portée de marche!


The battlefield, deployment starting ... we chose an attack on the right, along La Meuse ... no Prussian, victory is within range!
Le champ de bataille, tour 1...les Français ont plus de troupes, mais elles sont amoindries...On peut voir le rempart d'artilleries prussiennes au centre...


The battlefield, turn 1 ...more troops for the French, but they are reduced ... You can see the Prussian artillery wall in the center ...
Mes troupes sur l'aile gauche : l'infanterie a l' avantage d'avoir le Chassepot, un fusil de meilleure qualité, mais les effectifs des bataillons sont réduits et l'artillerie prussienne meilleure que son homologue...


My troops on the left wing : french infantry has the advantage of having the Chassepot, a better rifle, but the batallions are reduced and artillery Prussian better than its counterpart ...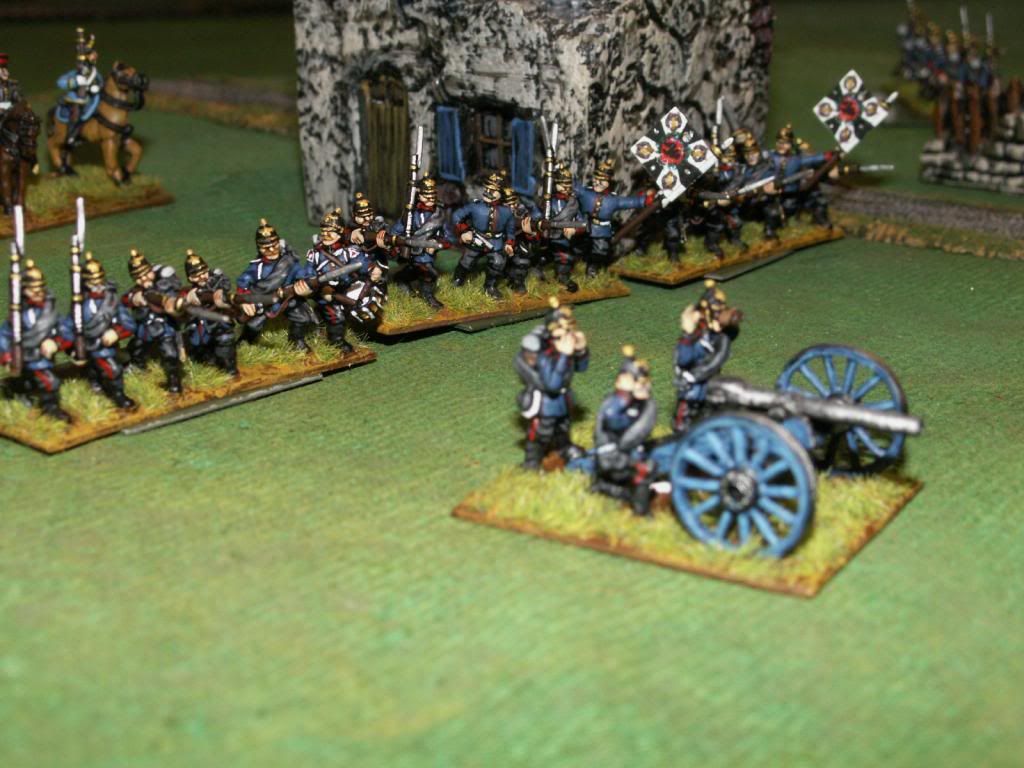 Bazeilles au début de la bataille...Dimitri, solide, en ligne derrière ses canons.


Bazeilles at the beginning of the battle ... Dimitri, solid, in line behind his guns.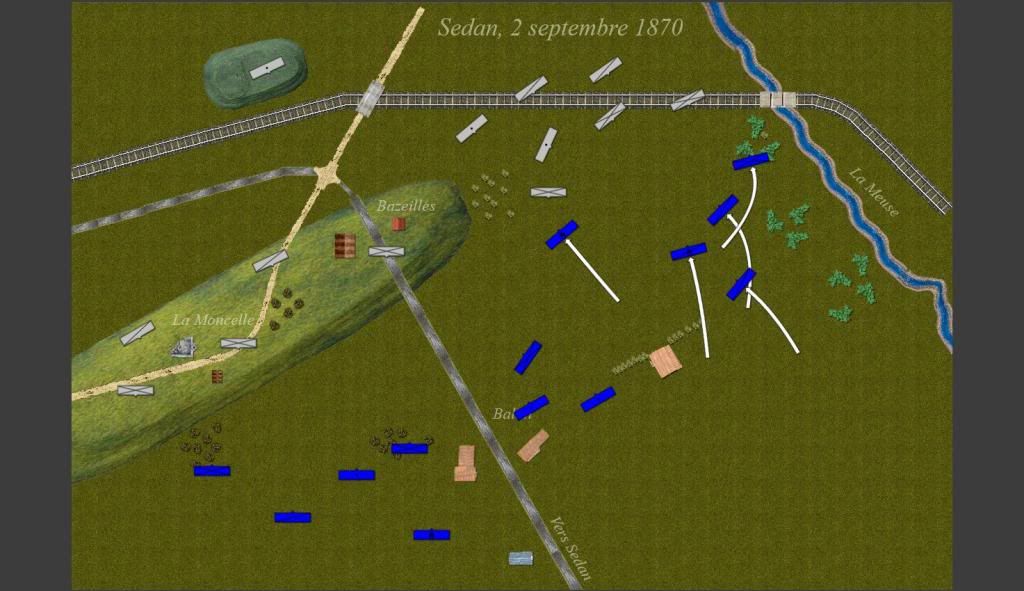 Tour 2 : nos premiers mouvements...et l'apparition de renforts Prussiens sous les ordres de Cédic! Cela sera plus compliqué que prévu!


Round 2: our first movements ... and the appearance of Prussian reinforcements! This will be more complicated than expected!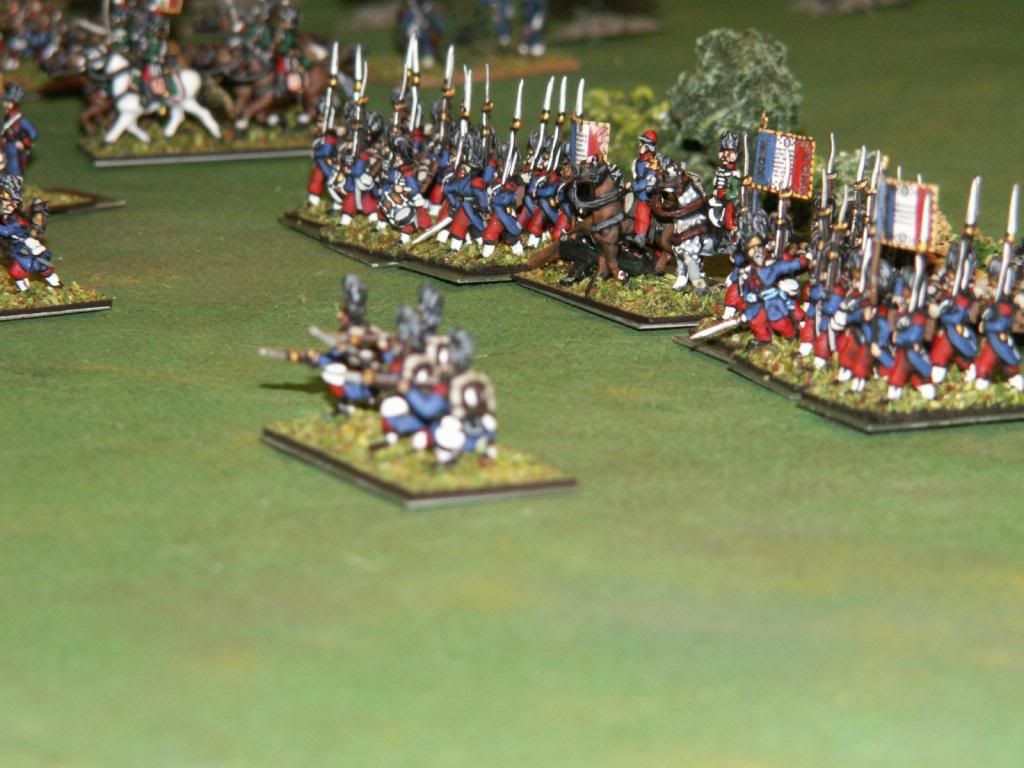 Dès le premier tour, ordre est donné à la première brigade de la garde de Christophe d'attaquer au centre...les bataillons ont le pas sûr, leur progression est régulière, protégée par la cavalerie de la garde sur le flanc droit.
The first round, the order was given to the first brigade of the guard Christophe attack in the center ... the battalions are sure, their progress is regular, protected by the cavalry of the guard on the right flank.
Gott mit uns! Feuer!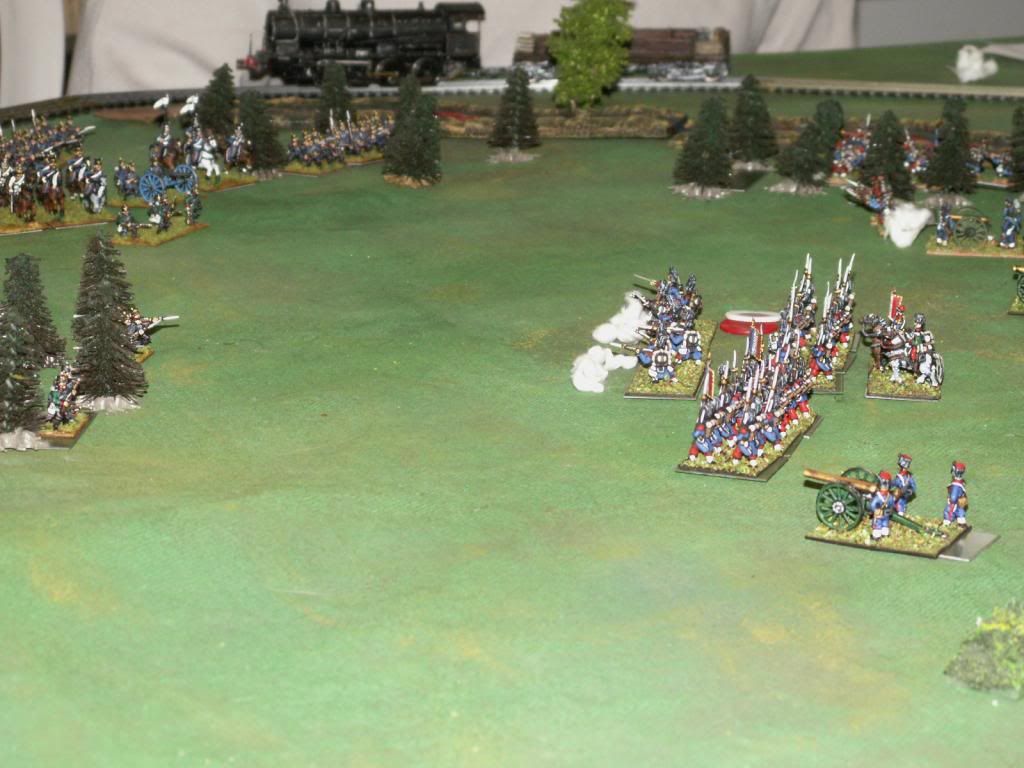 Tour 2 : les Prussiens avaient des renforts...notre idée de remporter une victoire décisive semble moins bonne, tout d'un coup!


Round 2: the Prussians had reinforcements ... our idea of ​​a decisive victory seems less good, all of a sudden!
Mais que voit Christophe dans sa longue-vue?


But...what Christophe sees in his telescope?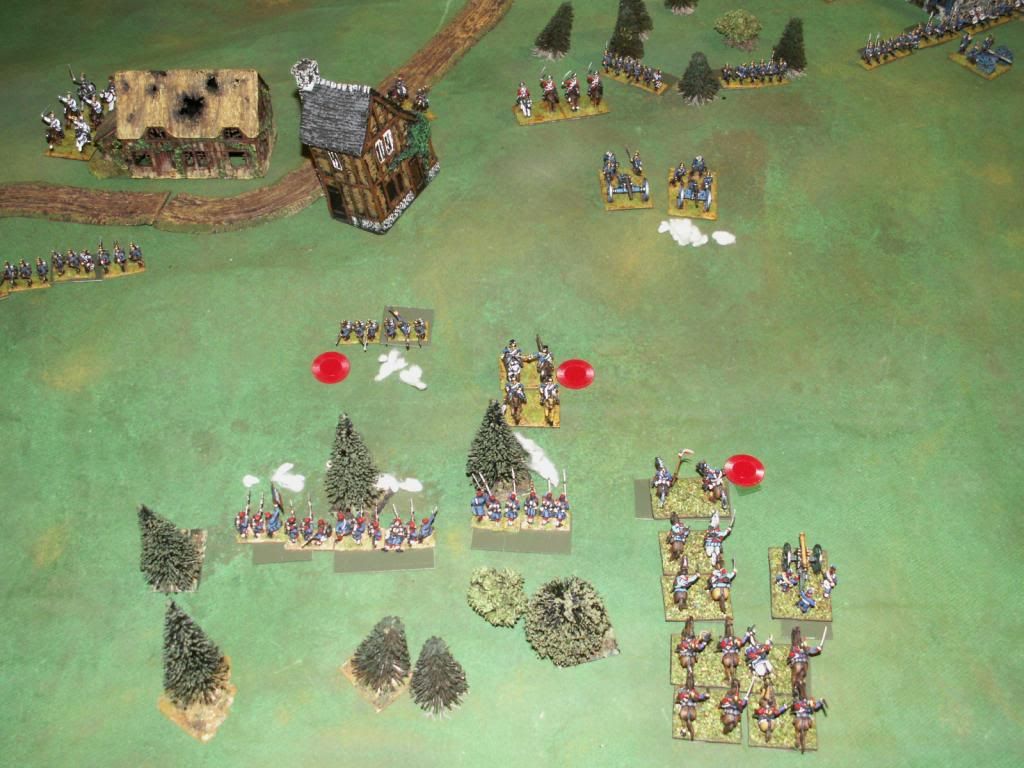 Du côté de La Moncelle, Serge le Prussien tente quelques harcèlements. Les dés me seront favorables, et notre aile gauche ne souffrira pas.


The Moncelle side, the Prussian Serge tries some harassment. The dice will favor me, and our left wing will not suffer

.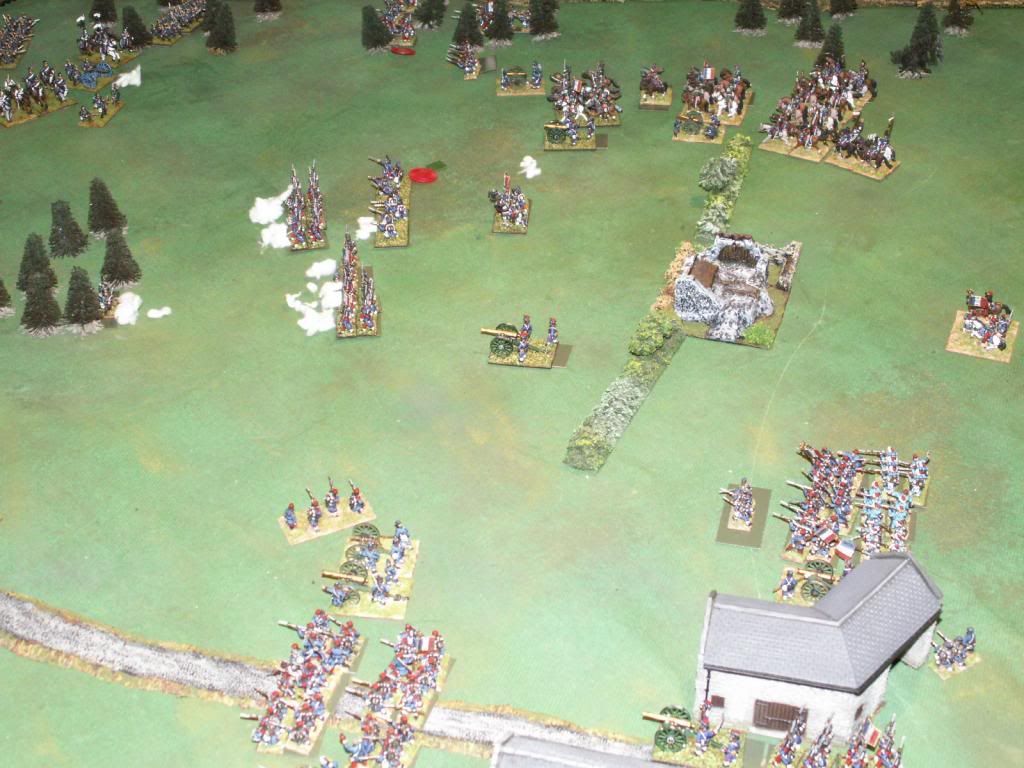 Tour 3 : grande manœuvre des Français, contournement par la droite...Ronnie s'est engagé dans le bois, il est à seulement 40cm d'une victoire majeure!


Tour 3: large maneuver of the French on the right ... Ronnie is engaged in the wood, it is only 40cm a major victory!
Tour 4 : Ronnie, avec ses zouaves, est accroché par les Prussiens de Cédric...


Tour 4: Ronnie, with his Zouaves, is hung by the Prussians Cedric ...
Des combats terribles ont lieu dans ces bois! La Meuse prend une légère teinte rouge...


Terrible battles took place in the woods! The Meuse is taking a slight red color ...
Tour 4 : nous chargeons les brigades prussiennes avec nos valeureux cavaliers. Dans les bois ce sont les fantassins qui tentent de forcer le passage...tout ceci sous le tonnerre des canons prussiens!


Turn 4: we charge the Prussian brigades with our brave cavalry. In the woods , the foot soldiers are trying to force the pasage... all under the thunder of the Prussian cannon!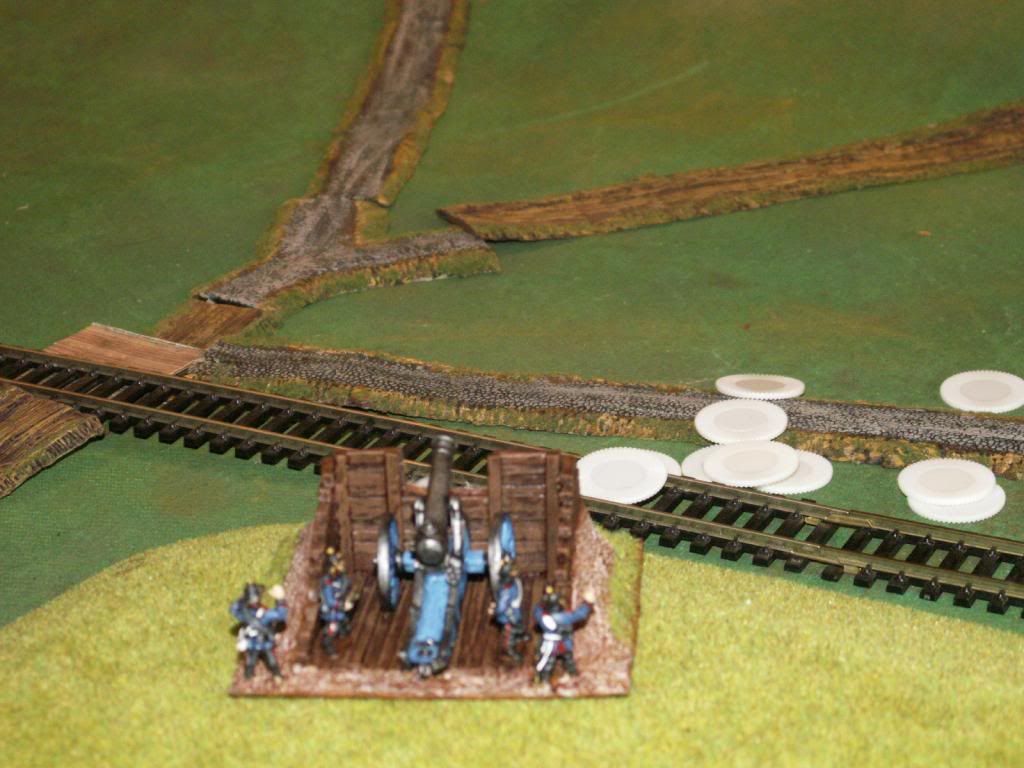 C'est alors que l'artillerie de position prussienne se met à tirer...les pièces sont installées, une zone est choisie...
That's when the Prussian artillery position starts firing ... guns are installed, a zone is selected ...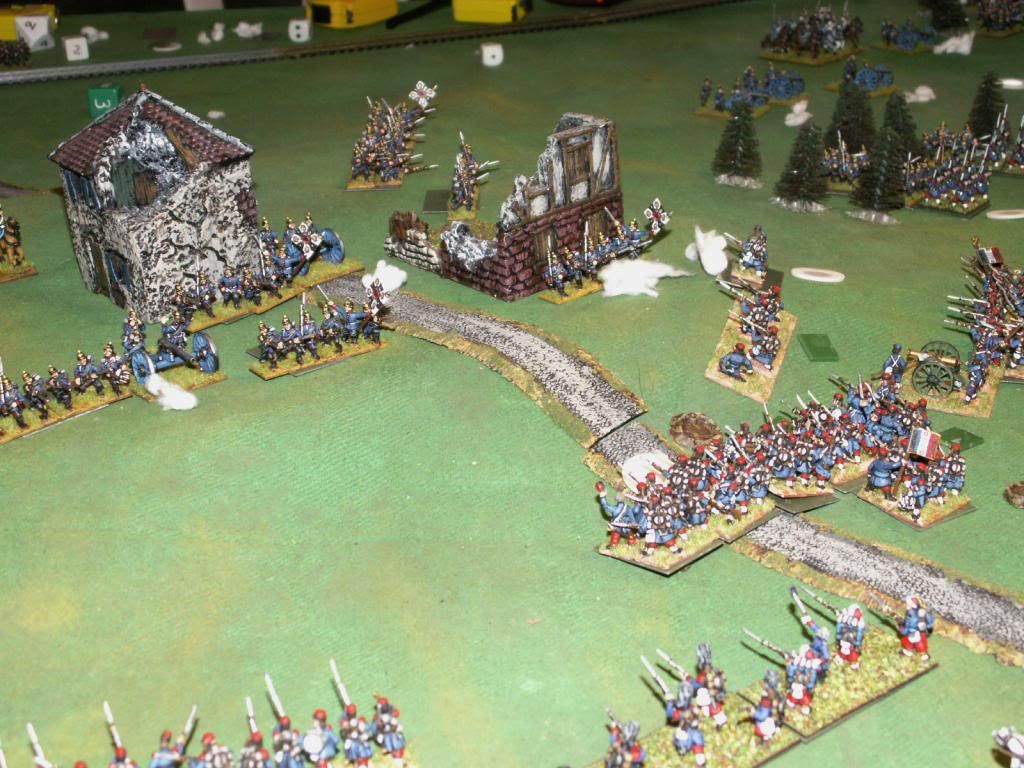 ...les obus tombent sur la brigade de Ronnie qui partait à l'assaut de Bazières...la brigade est clouée, l'allant français freiné!


...shells are falling on Ronnie's Brigade who had the orders to conquer Bazières... brigade is pinned, the french progression breaked!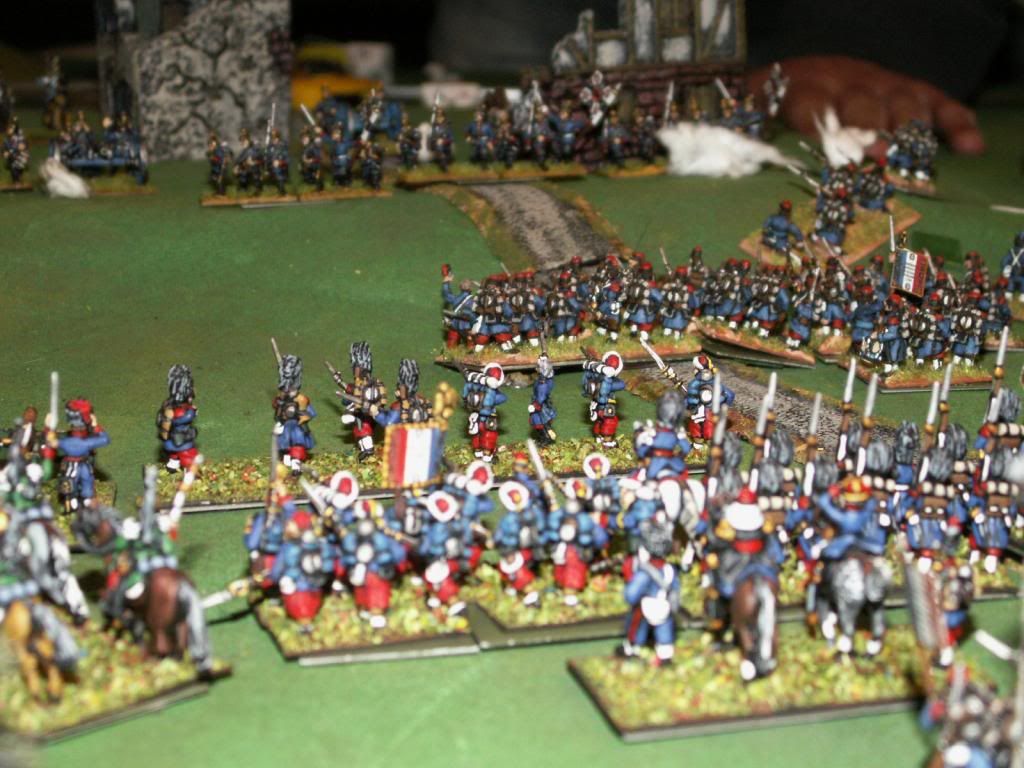 L'ordre vient d'être reçu...la deuxième brigade de la garde doit attaquer Bazeilles...devant elle, la brigade de Ronnie, à l'arrêt sous les tirs des obus!


The order has been received ... the second Guards Brigade must attack Bazeilles ... before it, Ronnie'sb rigade , stopped under fire shells!
Pour l'Empereur! Tour 7, alors que la première brigade de la garde recule au fond, le moral des Français vacille...C'est donc à la deuxième brigade de remporter la victoire et de donner du moral aux troupes...


For the Emperor! Turn 7, while the First Brigade of the guard is fleeing (back on the picture), French morale falters ... So it's to the second brigade to bring victory and give moral support to the troops ...
L'attaque sur Bazeilles...il est 15h30, le match nul est à portée de baïonnette...Ronnie ne peut plus diriger ses troupes (marqueurs rouges et blancs), mais mon assaut par la droite est couronnée de succès, la moitié de Bazeilles est entre nos mains...


The attack on Bazeilles ... it is 15:30, the draw is within range of bayonet ... Ronnie can no longer lead his troops (red and white markers), but my assault on the right is successful, half Bazeilles in our hands ...
...pour un tour seulement! Les Prussiens de Dimitri reprennent le village, et les officiers français doivent donner l'exemple pour ne pas reculer!


...for only one turn ! Dimitri's Prussians resumed the village, and the French officers must set the example not to go back!
Tour 7 : il n'est plus question de gagner, notre flanc droit part en déroute! On va tenter d'arracher le match nul en prenant Bazeilles...


Tour 7: it is no longer question of winning, our right flank is routing ! We will try to snatch the draw,




taking Bazeilles ...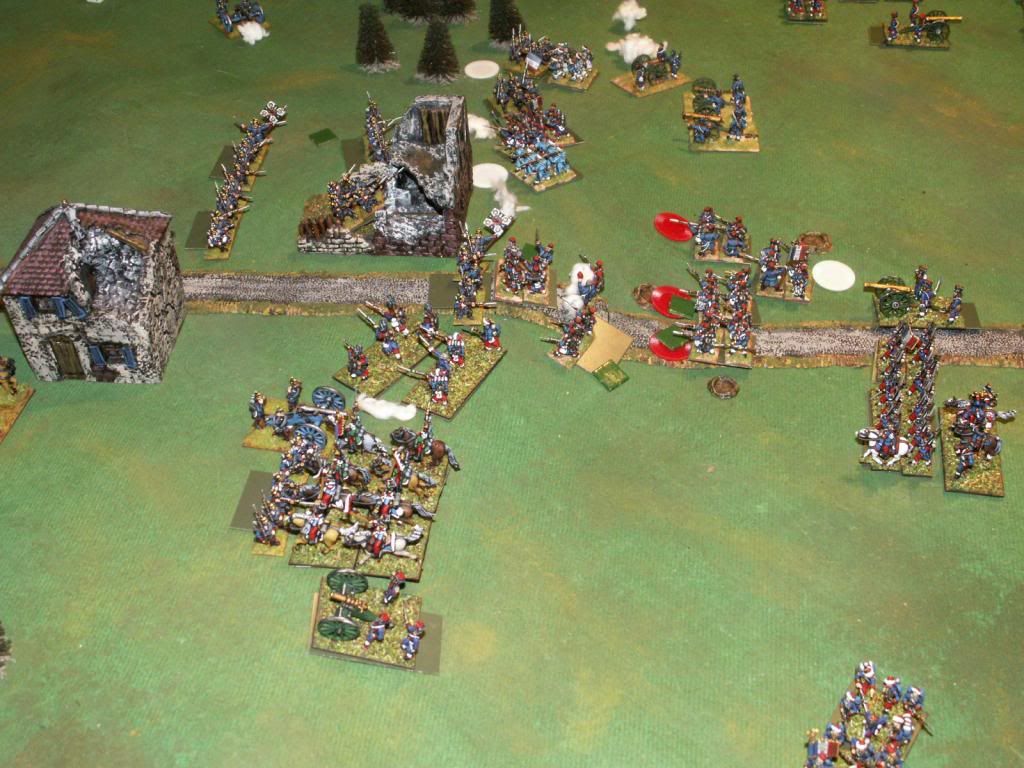 Dernier tour : il ne reste que la garde pour les Français, Bazeilles peut être prise...mais à quel prix?


Last round: it remains only the guard for the French, Bazeilles can be taken ... but at what price?
17h00 : Bazeilles est une nouvelle fois en ruines...nos brigades françaises, il n'en reste que deux,
peuvent donner le dernier coup de boutoir, mais il ne faudra guère de temps avant que
l'ensemble des Prussiens ne nous saute à la gorge.
Le général de Wimpffen, résigné, donne l'ordre de se replier sur Sedan...
Victoire majeure prussienne, leur fraîcheur et leurs artilleries ont fait la différence!
17:00: Bazeilles is again in ruins ... our French brigades, only two remains on the table,
can give the final onslaught, but it does not require much time before
all Prussians jump to our throat!
The General Wimpfen, resigned, gave the order to retreat on Sedan ...
Prussian major victory, their freshness and their artillery made ​​the diference!
Partout sur le champ de bataille, des cris retentissent...
"Nach Paris!,
Nach Paris!
"...
Mais ceci est une autre histoire...
All around on the battlefield, we can hear
"Nach Paris!,
Nach Paris!
"...
But this is another story...
Un grand merci à Ronnie pour nous avoir préparé un si beau scénario...
Bienvenue à Lintroini, le 104ème...
Welcme to Lintroini, the 104th!